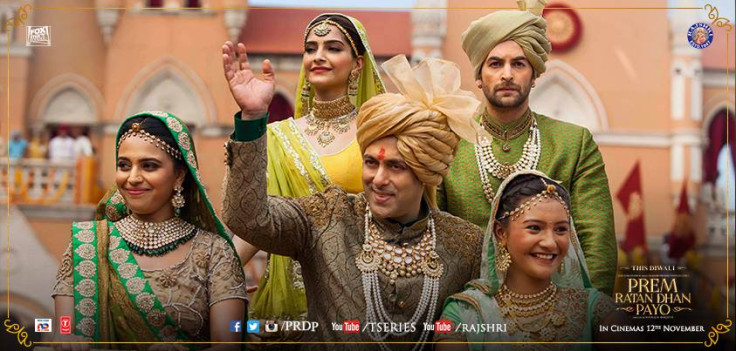 Prem Ratan Dhan Payo is the quintessential Bollywood film -- lots of song and dance, oodles of melodrama, big bright colours all around, big action scenes, and Salman Khan(s).
Director Sooraj Barjatya is back with Khan after a long time (his last collaboration with the star was the 1999 family drama, Hum Saath-Saath Hain). And it looks like he was so keen to make up for lost time, he decided to put two Salman Khans in his latest Bollywood extravaganza.
A twist on the popular Prince And The Pauper tale, PRDP is a Salman Khan show all the way. Unlike Barjatya's earlier films with the actor, this one doesn't quite feature the big Indian joint family. So if you're expecting another Hum Aakpe Hain Kaun or Hum Saath-Saath Hain, you'll be fairly disappointed.
The basic idea in this film is more about bringing a broken family together. Yuvraj Vijay Singh (Salman Khan) a prince of (fictional Indian province) Pritampur is suave, strong-headed but stubborn. He is all set to be crowned king and is engaged to princess Maithili (Sonam Kapoor). His only problem is that he's not an expert when it comes to dealing with matters of the heart. The prince tries to reconcile with his estranged sisters but fails miserably. After a fatal attack orchestrated by his evil younger brother Ajay Singh (Neil Nitin Mukesh) who is eyeing the throne, Vijay is left badly injured and unconscious.
Pritampur's Diwan (Anupam Kher) notices the prince's lookalike Prem Dilwala (Salman Khan) and decides to temporarily put him in Vijay Singh's place while he recovers.
A complete contrast to the rigid and royal Vijay, Prem is a happy-go-lucky Ram-bhakt who harbours a crush on the princess. After understanding the prince's various relationship woes with his sisters and Maithili, the pauper takes it upon himself to make things right.
Salman Khan is in top form this film. He excels in his portrayal of the suave, dashing and moustached prince and is equally lovable as the plain, simple and kind-hearted, Prem.
Neil Nitin Mukesh doesn't have much of a role in terms of length and substance -- the actor poorly manages to stumble through whatever scenes he has. On a related note, there's a pretty funny Game Of Thrones reference in the film; see if you can identify it.
This is definitely one of Sonam Kapoor's better performances. Barring the whole 'giggling away during the relief camp' sequence, the actress manages to competently play the distressed princess who eventually takes a liking towards her fiancé's lookalike, Prem. Who she eventually ends up with should not really be a big surprise for the audience - it's as Bollywood as it can get.
The film is a royal treat for Salman Khan fans -- but that's pretty much it. There's not much in terms of story and screenplay. In fact, this could easily pass off as any other Salman Khan movie, which is sad considering the director's remarkable contribution to Indian cinema, especially in the 1990s. The big Indian joint family is certainly amiss in this Rajshri film. Well, maybe the director can get back to that in the next one, and he can start with casting Alok Nath and Mohnish Bahl in some key roles!