Premier League
Full time: Crystal Palace 0-2 Arsenal
Full time: Aston Villa 0-2 Everton
Full time: Liverpool 4-1 West Brom Albion
Full time: Manchester United 3-2 Stoke City
Full time: Norwich City 0-0 Cardiff City
Full time: Southampton 2-0 Fulham
La Liga
Full time: Barcelona 2-1 Real Madrid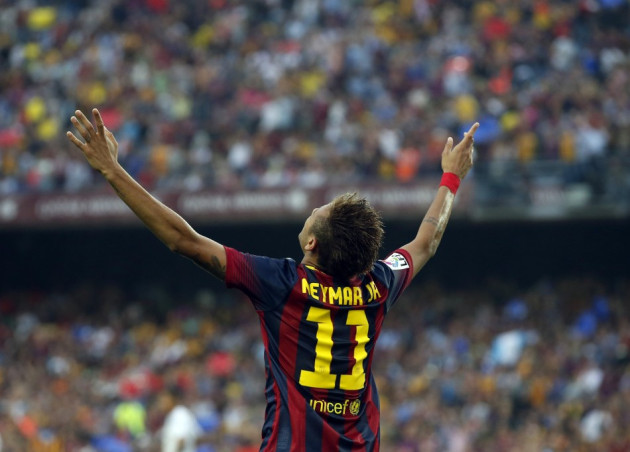 19:20: Fulham are put out of their misery as Andre Marriner blows the final whistle. Southampton were superb throughout and clinched the win with two first half goals as Rickie Lambert and Jay Rodriguez's headers send them third. Problems though for Martin Jol.
Well that's that on as entertaining a Saturday as you're likely to see. Plenty of goals and controversy. What a shame we have to wait until tomorrow for a second dose. For those of you who have been around for the entirety thank you. For those of you late to the party, make surer you're around tomorrow. Goodbye.
Full time: Southampton 2-0 Fulham
19:14: Just three wins for Fulham in the league this season, two of which have come against the bottom two. martin Jol is quikcly beciominhg the favourite to be the next Pemier League managerial departure. The Saints are terrific at home these days but this has been lifeless and abject from Fulham. Lots to consider for Jol and new owner Shahid Khan.
19:05: You can throw a cap over Fulham at times such is the lack of width in their team. When Bryan Ruiz comes inside they reall lack wide options. Something for Martin Jol to look at. Seem to remember him saying Wilfried Zaha wasn't an option for him because of his amount of wide playes. Role up, role up.
19:03: Something for The FA to look at. A coming together between Amorbieta and Lovren sees the Fulham player strike the Saints defender while he is on the floor. Referee didn't seem to see it.
19:01: A sign of Fulham's improvement has been Dimitar Berbatov's increased impact in the second half and he instigates a rare chance as Bent crosses for Sidwell but Southampton deal with it.
18:56: Back to St Mary's where despite Fulham's improvement Southampton almost have a third. Jay Rodriguez's acrobatic effort goes wide however. About 20 minutes left on the south coast.
18:53: Barcelona see out stoppage time to go six points clear of Real Madrid after just 10 games. Neymar and Alexis Sanchez had Barca ahead but Madrid hit back in the final moments through Jesse Rodriguez. After selecting a dubious starting XI, Carlo Ancelotti will be wondering what if after Ronaldo was denied a clear penalty and Karim Benzema struck the bar.
Full time: Barcelona 2-1 Real Madrid
18:49: Barcelona are galavanting forward and they've caught on the break as Real give themselves a very, very late lifeline. Ronaldo gets away and finds Jesse Rodriguez who steadys himself before netting his frist Clasico goal under Valdes.
Goal: Barcelona 2-1 Real Madrid (Jesse Rodriguez)
18:45: We're nearly an hour into Clasico II aka Southampton v Fuilham and Martin Jol's side have improved signficantly in the opening quarter of the second half. No clear cut chances to help cut the deficit, but some early encouragement that Saints won't walk through this second period.
18:43: Chance for Madrid. Benzemz feeds Khedira but Valdes is equal to his side-footed effort. Not Madrid's night.
18:41: Now Cristiano Ronaldo knows how it feels. Dani Alves nuts megs the Real man, storms into the box but it denied by Lopez. Almost a flourish from the hosts.
18:37: Outrageous second for Barelona which should secure the points. Alexis Sanchez is played through and despite being faced by Varane, he turned inside and seeing Diego Lopez off his line lops the Real stopper with a beautiful chip. Outstanding way to secure a Clasico win.
Goal: Barcelona 2-0 Real Madrid (Alexis Sanchez)
18:32: Stephen Hughes on for Fulham at the break. The visitors get the second half underway.
18:29: Ronaldo is incandescent with rage and you can see why. The Portuguese international gets in behind and is bundled over by Mascherano but no penalty is given. Another opportunity for Real as Benzema rattles the crossbar with a fiece effort from 30 yards. Valdes just stood and stared.
18:28: Half a chance for Real, who are enjoying better possession since the introduction of Illarramendi, as Marcelo's cross found Benzema at the back post but his header was well off target.
18:22: Half time at Southampton and the home side are well on top. Rickie Lambert has scored the first from a corner and mad the second for strike partner Jay Rodriguez to firm up Mauricio Pochettino side's dominance which has been undeniable. Fulham have performed as poorly as they did in beating Crystal Palace on Monday but their opponents aren't making the same errors.
18:18: Gareth Bale off and Karim Benzema on for Real Madrid. Intent, of sorts, from Ancelotti.
Half time: Southampton 2-0 Fulham
18:16: Great chance for Real to draw level. Iniesta is dispossed by Modric and the Croatian immediately feeds Cristiano Ronaldo who in the left-hand channel forces Valdes into a superb save by his near post. From the resulting corner, Di Maria strikes from range but Valdes holds on.
18:15: Southampton get that second goal with three minutes of the second half remaining as Lambert heads the ball across the face of goal and Rodriquez climbs to head home from a yard. He collides with the post in the process of scoring but any pain willbe tempered by the second Saints goal. Fulham frankly, have been dreadful.
Goal: Southampton 2-0 Fulham (Jay Rodriguez)
18:12: Real really haven't got going and Gareth Bale wants a free-kick when he is shoved to the floor by Dani Alves. He doesn't get one and Barca go down the other end and Lopez saves well from Neymar.
18:09: Another chance for Lambert as he gets away from Senderos and forces Stekelenberg into a top notch save low down. It's been all Southampton.
18:06: Rickie Lambert pings one against the post as Southamptongo in search of a second. Fancy Stekelenburg had it covered though.
18:05: Sergio Ramos lucky not to see red after a foul on Iniesta. Cynical stuff from the Madrid skipper. Not sure why he's still on.
18:00: Both sides back out at the Nou Camp. Game set to restart.
17:55: Fulhma haven't had a kick and Saints have the lead as Lambert ghosts in unmarked and heads home. Too, too easy.
Goal: Southampton 1-0 Fulham (Rickie Lambert)
17:48: Neymar's only goal on his El Clasico debut has Barcelona ahead over Real Madrid. Carlo Ancelotti's team selection hasn't come off yet. We could see Karim Benzema before long.
Half time: Barcelona 1-0 Real Madrid
17:46: Real have been wretched in the first half at the Nou Camp but they almost went in at the break level. Ronaldo gets to the byline and crosses for Khedira, who slides in and denied brilliantly by Victor Valdes. As the ball breaks free, the German wants a penalty for a handball by Adriano. Nothing doing there I'm afraid.
17:36: Early chance for the hostsat St Mary's. A mix up between Stekelenberg and Senderos sees Lallana nip in and when the Dutchman palms away Schneiderlin's side footed efort is cleared off the line.
17:33: Underway at St Mary's, by the way.
17:29: It's not all about El Clasico tonight and in Southampton v Fulham we have a fixturewill the capacity to entertain. Teams below:
Southampton: Boruc, Clyne, Fonte, Lovren, Shaw, Wanyama, Schneiderlin, Ward-Prowse, Lallana (c), Rodriguez, Lambert.
Substitutes: K Davis, Ramirez, Cork, Lee, Guly, Chambers, Hooiveld.
Fulham: Stekelenburg; Riether, Senderos, Amorebieta, Richardson; Ruiz, Sidwell, Parker, Kasami; Berbatov; Bent.
Substitutes: Stockdale, Kacaniklic, Karagounis, Duff, Hughes, Rodallega, Zverotic.
17:26: Of the British correspondents who are tonight on 'Gareth Bale watch' will have had a quiet night thus far. The world's most expensive player has sledom been involved in the opening quarter. He's gets on opportunity though but blasts well over. Real have been totally outplayed by Gerardo Martino's men.
17:22: The Catalans should have doubled their lead as Messi goes clear through but misses the target. Big let off for Madrid who haven't got going.
17:20: Outstanding from Neymar and Barcelona take the lead. Xavi feeds him in the penalty area and as Madrid don't get close enough the Brazilian shifts onto his rigth foot and finds the bottom corner via a deflection off Pepe.
Goal: Barcelona 1-0 Real Madrid (Neymar)
17:19: Something to clear up from Norwich 0-0 Cardiff City at the end of the game as Norwich attempted to give the ball back to Cardiff after a late foul, Leory Fer smashed the ball into net. Referee Mike Jones said the goal did not stand because he hadn't blown his whistle but it sounds like an explanation to evade the big issue. Either way, the right outcome was met because the game ended in a draw but a very controvercial episode was avoided.
17:15: Another example of Sergio Ramos' cynical nature as he is booked for barging into Neymar. First chance for Real as Ronaldo smashes over.
17:13: Barcelona naturally domianting possession but Bale and Di Maria are tucking in and making space in the Madrid half difficult to come by. Lionel Messi slaloms a few challenges but his deflected shot doesn't test Diego Lopez.
17:09: Yellow card for Sergo Busquets after a foul on Angel di Maria. The Spaniard protests about the early nature of the caution but the official is having none of it. Di Maria takes the resulting free-kick but Sergio Ramos, who else, gives away a foul.
17:06: Little to report in the early stages at the Nou camp. Xavi tries to play through Neymar but the Brazilian can not gather. Real keeping 10 men behind the ball in the early stages.
17:03: Teams:
Barcelona: Valdés, Piqué, Fàbregas, Xavi, Iniesta, Messi, Neymar, Mascherano, Sergio, Adriano, Alves
Real Madrid: Diego López, Varane, Pepe, Ramos, Khedira, Ronaldo, Bale, Marcelo, Carvajal, Modric, Di María
17:00: Underway at the Nou Camp. Teams to follow.
16:59: Without wanting to totally ignore what we've seen in the Premier League this afternoon, we must turn our attention to Spain where Barcelona and Real Madrid are set to get going in the first El Clasico of the season. Kick-off approaching.
Full time: Aston Villa 0-2 Everton
Full time Manchester United 3-2 Stoke City

Full time: Liverpool 4-1 West Bromwich Albion

Full time: Norwich City 1-1 Cardiff City
16:49: Five added minutes at Old Trafford.
16:45: Cracking save from Simon Mignolet to deny Chris Brunt. Lots iof presentable chances for West Brom this afternoon amid fiour goals for the hosts
16:44: Suarez almost notched his fourth from an overhead kick which Myhill has tipped onto the bar. Stoke running of ideas meanwhile with United closing the game out.
Goal: Aston Villa 0-2 Everton (Leon Osman)
16:40: A flurry of headers have manchester United ahead at Old Trafford. The first came from wayne Rooney from a Van Persie corner before Hernandez, a second half substitute, perhaps clinches the points with a back-post finish.
At Anfield, perhaps the goal of the day from Daniel Sturridge with a delicate chip from 20 yards over Boas Myhill, who had a great view but no chance.
Goal: Manchester United 3-2 Stoke City (Javier Hernandez)
Goal: Liverpool 4-1 West Bromwich Albion (Daniel Sturridge)
Goal: Manchester United 2-2 Stoke City (Wayne Rooney)
16:36: Stoke City look, dare I say it, comfortable at Old Trafford. Adnan Januzaj is on but he's seen little of the ball and Wayne Rooney's influence is on the wane. At Anfield, since getting one bacjk, West Brom have looked very good and Chris Brunt should have done better but shoots over.
16:29: A fifth goal of his loan spell from Chelsea for Romelu Lukaku who tucks home beyond Brad Guzan.
Goal: Aston Villa 0-1 Everton (Romelu Lukaku)
16:27: Morrison gives West Brom a lifeline with 24 minutes left by hammering home a penalty given by John Moss after a 'foul' on Billy Jones. No idea why it was given as Jones just ran into a Liverpool defender.
Goal: Liverpool 3-1 West Bromwich Albion (James Morrison)
16:18: Sturridge rattles the crossbar with an brilliant effort. Liverpool ticker.
16:15: Steven Gerrard's free-kick from the left is a good one and Luis Suarez meets it first, flicking home beyond Myhill. Lovely trio for the Uruguay forward.
Goal: Liverpool 3-0 West Bromwich Albion (Luis Suarez)
16:11: Just watching some footage from half-time of Robin van Persie and Ryan Shawcross coming together. Bit of sopmethjing andnothing but it nothing else another example of the home side's frustrations.
16:09: Problem for Stoke as Marko Arnautovic is taken off with an injury. Marc Wilson replaces him. Not exactly like for like.
16:03: Underway at Old Trafford. Waiting to get going elsewhere
15:56: No doubt where the story is today. Stoke City are ahead at the break against Manchester United with Marko Arnautovic scoring a stunning free-kick. Luis Suarez has netted twice brilliantly to give Liverpool a half-time advanatage over West Bromwich Albion, while Merseyside rivals Everton have goalkeeper Tim Howard to thank for saving twice from Aston Villa's Christian Benteke, the first coming from the penalty spot. Finally, Norwich, only through John Ruddy's excellence, are holidng Cardiff at Carrow Road.
Another 45 minutes of that ok with you?
15:47: Stoke back in front! Stoke win a free-kick straight away and Mark Anautovic curls an absolutely beauty round the wall and past David de Gea. Outstanding finish.
Goal: Manchester United 1-2 Stoke City (Marko Arnautovic)

15:44: Asmir Begovic does brilliantly to palm away Rooney's header but following up with a fine volley is Robin van persie who makes no mistake. Those missed chances look a long way away now.
Goal: Manchester United 1-1 Stoke City (Robin van Persie)

15:41: Stoke are all over United and they could be two up. Arnautovic slides the ball in and Crouch is so close to touching home.
15:39: David Moyes is stalking the touchline at Old Trafford as the United threat begins to temper as half-time approaches. More problems at home for the new United boss.
15:36: Suarez almost nets his hat-trick goal but his free-kick hits the post behind the goal. Most of Anfield were up.
15:33: United has resorting to shots from range as we reach the half hour. Bit of a worry for the champions. Anpther chance for Stoke with De Gea saving from Arnautovic. Rooney takes aim from range and Begovic makes a superb save.
15:29: Martin Skrtel should really make it three for Liverpool but he completely misses the ball from six yards. At Old Trafford, David de Gea keeps United in it as he denies Jonathan Walters with a superb stop.
15:26: United are real sturggling to break Stoke down at Old Trafford. Shinji Kagawa gets away in the left-hand channel of the penalty area but his cross can be converted by Van Persie. The Japan international was offside regardless.
15:20: Goodness me. Sissoko's dinked cross and from all over 18 yards, Suarez heads the ball beyond Boas Myhill. Amazing finish.
Goal: Liverpool 2-0 West Bromwich Albion (Luis Suarez)
15:13: In a week of brilliant goals here is another to add to the list. Luis Suarez beats Claudio Yacob and runs towards the area, nut-megs JKonas Olsson and slams the ball into the corner. Superb.
Goal: Liverpool 1-0 West Bromwich Albion (Luis Suarez)
15:12: At Anfield, Liverpool want a penalty as Luis Suarez is pulled back in the area following Sturridge's through pass. Seen those given
15:10: Slightly fortunate penalty for Villa but Tim Howard sees that justice is done and makes a terrific save from Christian Beneteke.
Christian Benteke misses penalty
Penalty to Aston Villa
15:09: It's all happened at Old Trafford and Nani is the main protangonist. Nani wants a penalty after he goes down very easily and then the Portuguese winger shoots over after Evra's cross. Stoke sitting in.
15:06: Stoke take a shock lead at Old Trafford. Crouch forces De Gea into a superb save and as Evans and Jones attempt to get the ball clear, the can only clear the ball into Crouch and the ball nettles into the net. Great start for Mark Hughes on his return to United.
Goal: Manchester United 0-1 Stoke City (Peter Crouch)
15:03: Early chance for Manchester United. Van Persie turns and shoots goalwards and the ball in hacked off the line. Nani then gets away but blasts over from 25 yards.
14:57:Teams:
Aston Villa: Guzan, Bacuna, Vlaar, Baker, Luna, Weimann, Westwood, Delph, Agbonlahor, Benteke, Tonev
Substitutes: Clark, El Ahmadi, Helenius, Steer, Sylla, Kozak, Lowton
Everton: Howard, Coleman, Jagielka, Distin, Baines, McCarthy, Barry, Mirallas, Barkley, Pienaar, Lukaku.
Substitutes: Robles, Jelavic, Oviedo, Deulofeu, Naismith, Osman, Stones
Liverpool: Mignolet, Johnson, Cissokho, Toure, Sakho, Skrtel, Lucas, Gerrard, Henderson, Sturridge, Suarez
Substitutes: Jones, Kelly, Agger, Allen, Sterling, Moses, Alberto
West Bromwich Albion: Myhill; Jones, McAuley, Olsson, Ridgewell; Yacob, Mulumbu; Amalfitano, Anelka, Sessegnon; Anichebe
Substitutes: Daniels, Long, Brunt, Morrison, Lugano, Vydra, Berahino.
Manchester United: De Gea, Smalling, Jones, Evans, Evra, Nani, Carrick, Cleverley, Kagawa, Rooney, Van Persie.
Substitutes: Lindegaard, Rafael, Fellaini, Januzaj, Young, Valencia, Hernandez.
Stoke City: Begovic, Cameron, Shawcross, Huth, Pieters, Walters, Palacios, Ireland, Nzonzi, Arnautovic, Crouch.
Substitutes: Sorensen, Whelan, Jones, Wilson, Adam, Assaidi, Wilkinson.
Norwich City: Ruddy, Martin, Turner, Bassong, Olsson, Tettey, Fer, Howson, Snodgrass, Pilkington, Hooper
Substitutes: Nash, Whittaker, Johnson, Van Wolfswinkel, Elmander, Redmond, R Bennett.
Cardiff City: Marshall, Taylor, Caulker, Turner, Whittingham, Medel, Campbell, Odemwingie, Kim, Mutch, Theophile-Catherine.
Substitutes: Lewis, Hudson, Gunnarsson, Cowie, Mason, Maynard, Bellamy.
14:49: Not a bad start to preceedings eh? Enough for you to stick around? Good stuff. We've got four more games at £pm and then hand on for El Clasico from 5pm and then Southampton v Fulham (if you can bare the excitement) at 5.30pm. it's all go. teams to follow
14:36: Made to sweat in the middle third of the game but Arsenal come through and extend their unbeaten run in the Premier League to eight games after overcoming a spirited but luckless Crystal Palace. Mikel Arteta got the first with a penalty but the Spaniard's sending off after taking down Marouane Chamakh gave Palace hope and if it wasn't for the brilliance of Wojciech Szczesny, saving from Joel Ward and Mile Jedinak, then the hosts would have grabbed a point. As it was, Olivier Giroud headed home a late second to see the game out and keep Arsene Wenger's side top.
Full time: Crystal Palace 0-2 Arsenal
14:32: Mesut Ozil wastes a great chance for Arsenal but the German blushes are saved as Arsenal double their lead. Aaron Ramsey is away and is allowed to turn onto his right foot and played a dinked cross for the onrushing Olivier Giroud who scores his second league goal away from the Emirates Stadium with a super header. The three points are going to north London.
Goal: Crystal Palace 0-2 Arsenal (Olivier Giroud)
14:27: Marouane Chamakh has been superb for Crystal Palace this afternoon but perhaps he would have secured a point there. A chipped ball in from Joel ward find the forward, who peels away from Koscielny but refuses to take the shot on first time and Arsenal eventually clear.
14:24: A rare Arsenal chance as Monreal twists and turns but his effort from a tight angle is blocked. Into the last 10 minutes.
14:23: Roles reversed from the first half with Palace with all the ball and Arsenal soaking up all the pressure. Worth noting that Dwight Gayle is now on to add tothe home side's attacking threat. Arguably deserve a leveller.
14:18: Wojciech Szczesny makes tow unbelivable saves to keep Arsenal ahead. First Joel Ward sees his strike tipped onto the cross bar and from the resulting corner, Jedinak's volley to turned over brilliantly by the Pole. Palace a real threat now. Arsenal hanging on.
14:16: Nacho Monreal has come on for Santi Cazorla and Jimmy Kebe has replaced Adelene Guedioura. Over 15 minutes left.
14:13: Jack Wilshere has come on for Serge Gnabry for Arsenal. Palace will be sensing they can grab a point here you feel.
14:09: Moment of controvercy at Selhurst Park as Arenal's goalscorer Mikel Arteta is sent off for drgaging back Marouane Chamakh. The Spaniard takes down Chamakh just over the half-way line but is the last man between the Morrocan and the goal. Looks like a harsh call from Chris Foy but it makes the final 24 minutes very interesting. The Gunners now holding on.
Red card: Mikel Arteta (Arsenal)
13:59: Mesut Ozil almost drives he way through at one end and Dean Moxey goes close at the other. All happening at Selhurst Park and with the score at 1-0, Palace are by no means out of this. Change for the hosts as Thomas is replaced by Yannick Bolase.
13:56: Great build-up from Arsenal and as Sagna crosses for Giroud, the Frenchman only heads wide. Big, big chance for the visitors. His poor run goalscoring run away from home continues.
13:54: Gnabry almost has the chance to make it two but Delaney makes a good recovery challenge.
13:52: Madness from Adelene Guedioura. Serge Gnabry ghosts into the penalty area and as he turns back the former Wolves dives in with a horrible challenge and the Arsenal man goes down. Chris Foy has no choice by to point to the spot and Mikel Arteta obliged with a calm spot kick. All of Palace's good work in the first half undone.
Goal: Crystal Palace 0-1 Arsenal (Mikel Arteta)
13:49: Penalty to Arsenal
13:48: Second half is underway at Selhurst Park.
13:46: Bit of rest bite for Dave Jones and Sheffield Wednesday who have equalised at Oakwell against Barnsley through Matt Fryatt. It's Huddersfield 1-1 Leeds United in the Yorkshire derby at the Galpharm meanwhile.
13:38: Caretaker boss Keith Millen asked for a reaction from Crystal Palace after a difficult week and goodness hasn't he got one. The hosts have been terrific after Arsenal began well, and Szcznesy has saved from Guedioura and Dikgacoi. The Gunners have offed plenty in attack but have been nullified the longer the half progressed.
Half time: Crystal Palace 0-0 Arsenal
13:27: Arsenal are all over the place at the back and Palace are inches away from taking the lead. Bannan's cross finds Chamakh, who gets inbetween Koscielny and Mertesacker but miss-times his jump and the ball goes behind.
13:24: Perhaps Palace should be ahead. Barry Bannan's corner is deep towards the back post, szczesny flaps at it and Dikgacoi can onyl head wide. Arsenal go down the other end and Giroud is denied by Speroni. Plenty of chances in this first half.
13:19: It's all Palace at the moment. Barry Bannan curls one towards the back post but Arsenal survive.
13:17: As Michael owen acutly notices, Palace are turning this game into a battle rather than a footalling feast that it was in the first 15 minutes. Guedioura is the latest to take aim and Szczesny holds well.
13:14: First shot on target comes after 27 minutes and comes for Palace. Marouane Chamakh, who has had a good spell in the game, catches on beautifully but Szczesny holds on. Palace coming into the game now.
13:11: Few former Arsenal cohorts in the Palace team today and one of those, Jerome Thomas, has a shot in anger from 25 yards but it fails to test Szczesny.
13:10: Just the 85% possession for Arsenal in the opening quarter at Selhurst Park. Total dominance but not a shot on target for Seproni to deal with...
13:08: Very messy for Palace. Speroni drops the ball after Gabbidon fails to head clear and Gibbs gets the host out of jail with a foul. The Gunners still on top.
13:04: Opportunity for Arsenal and Ozil is again invovled. His ball across the face of goals looks for Giroud by Palace clear. Corner for the visitors comes to nothing though.
13:00: Palace show some attacking intent at last as Thomas' cross finds Guedioura who streches and heads over Szczesny crossbar.
12:54: Early blow for Arsenal as Mathieu Flamini is replaced by Serge Gnabry. Flamini was a doubt with a head injury but this appears to be a groin injury for the midfielder. Might see Ozil drop into midfield now.
12:50: Early chance for Arsenal inside three minutes. Bacary Sagna's cross finds Olivier Giroud but the Frenchman heads over. All Arsenal in the opening stages here.
12:46: Underway in south London.
12:43: Players are out at Selhurst Park, which is rocking in the post-Holloway era. Kick off just minutes away.
12:42: Couple of early Championship games are already underway and Leeds United, who visit Huddersfield Town, and Barnsley who host Sheffield Wednesday, are both ahead early on. Updates through the day.
12:35: Worth noting that The Football Association today celebrate their 150th anniversary. To mark the occasion, there are just four players eligible to represent England in the start line-ups for the Premier League's opening game this weekend. How nice.
12:30: Mathieu Flamini is speaking on BT Sport and says the motivation behind his return to north London was down to having unfinished business following defeat to the Champions League final against Barcelona in 2006. The Frenchman was missed in mid-week and with Cazorla and Ozil in the same team, he has an important role to play.
12:27: Caretaker boss Keith Millen has rung the changes with just five players having survived from Ian Holloway's final game in charge against Fulham. Jerome Thomas and Marouane Chamakh are among the new faces. Arsenal are without Jack Wilshere but Santi Cazorla and Mesut Ozil start together for the first time. Mathieu Flamini returns after a concussion.
12:20: Owen Hargreaves speaking on BT Sport says he is "surprised" by Sir Alex Ferguson's criticism of him in his latest autobiography. Ferguson said the England midfielder lacked confidence and was one of his worst ever signings after an injury-laden spell at Old Trafford. One of a number of replies to the story of the week.
12:18: Teams:
Crystal Palace: Speroni, Ward, Delaney, Gabbidon, Moxey, Jedinak, Dikgacoi, Bannan, Thomas, Guedioura, Chamakh.
Substitutes: Price, Mariappa, O'Keefe, Puncheon, Kebe, Bolasie, Gayle
Arsenal: Szczesny, Sagna, Mertesacker, Koscielny, Gibbs, Arteta, Flamini, Ramsey, Ozil, Cazorla, Giroud.
Substitutes: Fabianski, Monreal, Vermaelen, Wilshere, Rosicky, Gnabry, Bendtner.
12:14: Palace chairman Steve Parish says interviews with potential replacements will take place on Monday and Tuesday and that they are looking to make an appointment as soon as possible. Parish says an unattached, younger boss with a connection to the club is the ideal candidate. he adds that Neil Warnock will be contacted regarding a vacant position. Tasty.
12:08: So let's start at Selhurst Park where Palace begin life after Ian Holloway with the visit of leaders Arsenal. Holloway said he had lost the fight with an Eagles side languishing in the bottom three and with only one win this season., following the 4-1 defeat to Fulham on Monday. As for Arsenal, their 11 match unbeaten run was ended by Borussia Dortmund in mid-week but they have not lost in the league since the opening day. Tough ask for managerless Palace you fancy.
12:00: After reaching the mid-way point in the Champions League in the Premier League would you believe it reaches the first quarter after this weekend's matches and we have a bumper two days in store. Managerless Crystal Palace and Arsenal kick us off while Barcelona and Real Madrid is the tea-time treat. In between we have Liverpool and Manchester United both in action. No need to move really then.