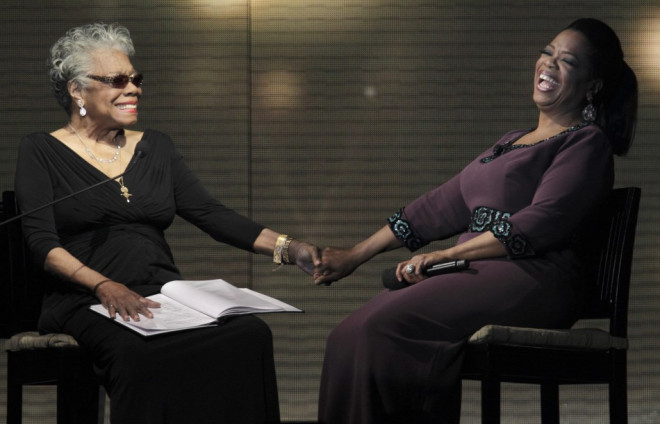 President Barack Obama and Oprah Winfrey have lead the tributes to Maya Angelou, who died today, (May 28) aged 86.
Winfrey had a long-standing friendship with the renowned author and poet, who she described as her friend, inspiration, her mentor and her "spirit mother."
Angelou made several appearances on "The Oprah Winfrey Show" and was most recently interviewed by Winfrey last year on the TV host's OWN network's "Super Soul Sunday" program.
Following the passing of Dr. Maya Angelou, Winfrey released the following statement:
"I've been blessed to have Maya Angelou as my mentor, mother/sister and friend since my 20s. She was there for me always, guiding me through some of the most important years of my life. The world knows her as a poet but at the heart of her, she was a teacher. "When you learn, teach. When you get, give" is one of my best lessons from her.
"She won three Grammys, spoke six languages and was the second poet in history to recite a poem at a presidential inauguration. But what stands out to me most about Maya Angelou is not what she has done or written or spoken, it's how she lived her life. She moved through the world with unshakeable calm, confidence and a fierce grace. I loved her and I know she loved me. I will profoundly miss her. She will always be the rainbow in my clouds."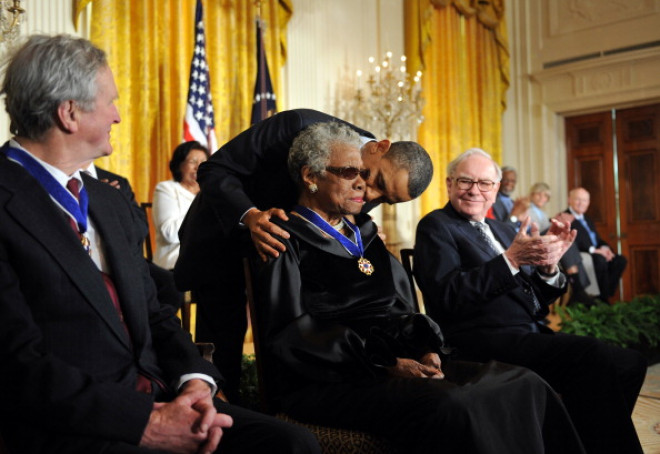 In 2011, President Obama presented Angelou with the Presidential Medal of Freedom, the country's highest civilian award.
Honouring her life's work he said: "Over the course of her remarkable life, Maya was many things - an author, poet, civil rights activist, playwright, actress, director, composer, singer and dancer. But above all, she was a storyteller - and her greatest stories were true."
Former President Bill Clinton paid his tribute to the poet, who wrote the evocative poem On the Pulse of Morning for his 1993 inauguration. He said with her passing, America had lost a national treasure and he and wife Hillary had lost "a beloved friend".
"The poems and stories she wrote and read to us in her commanding voice were gifts of wisdom and wit, courage and grace," he said. "I will always be grateful for her electrifying reading of On the Pulse of Morning at my first inaugural, and even more for all the years of friendship that followed."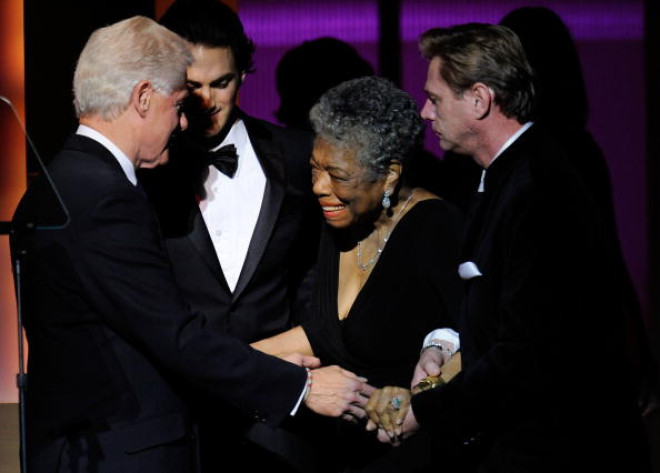 Civil rights campaigner Reverend Jesse Jackson hailed her as a beacon for peace for millions. "The Renaissance woman has made a peaceful transition. She acted, sang, danced & taught She used poetry as a road for peace," he tweeted.
Harry Potter author JK Rowling tweeted one of Angelou's quotes: "'If you are always trying to be normal, you will never know how amazing you can be.' Maya Angelou - who was utterly amazing."
Dr Angelou's family issued a statement on Facebook, confirming that the luminary had passed away peacefully at her home in Winston-Salem, North Carolina, at 08:00 EST (12:00 GMT).
Describing her as "a warrior for equality, tolerance and peace" they said that she lived and died with dignity.
"Her family is extremely grateful that her ascension was not belaboured by a loss of acuity or comprehension. She lived a life as a teacher, activist, artist and human being... The family is extremely appreciative of the time we had with her and we know that she is looking down upon us with love."