President Obama Knocks Stone Henge Off His Bucket List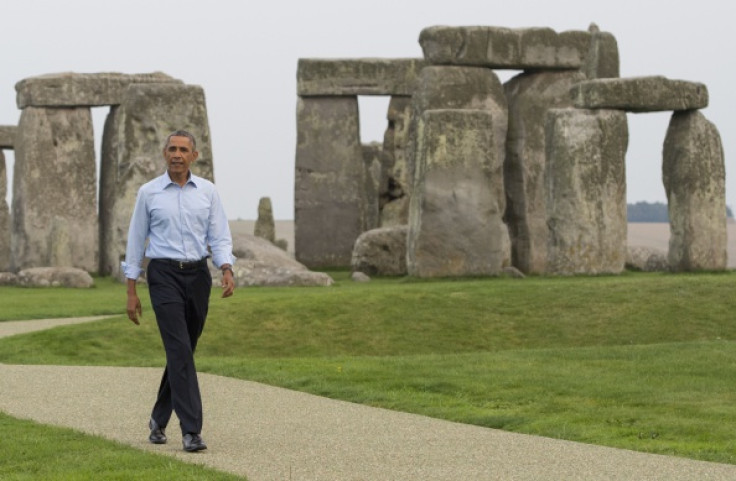 President Obama took some time out from world affairs for a spot of sight seeing at the end of the Nato summit.
After flying out of Newport in south Wales, Marine One made an unscheduled stop at Boscombe Down Airbase in Wiltshire, where the President took in the world famous Stonehenge.
Obama said he wanted to "knock Stonehenge off my bucket list."
The 4,000-year-old stones on Salisbury Plain are rarely accessible to the public but the President was given privileged access to wander among the stones themselves.
He was guided through the prehistoric stone circle by Heather Sebire, the curator of the site for English Heritage, and given a brief history of the ancient sarsen stones.
"How cool is this? Spectacular!" the excited president exclaimed.
The President's impromptu visit surprised locals including Janice Raffle, 35, who walked across fields towards the ancient monument with her husband James and their three sons to get a glimpse of the American visitor.
Obama wandered over to the family to say hello and posed for photos. Mrs Raffle told ITV News: "I squealed like a teenager! You'd think I would know better."
The President's motorcade then weaved its way for 20 minutes across Salisbury Plain, leaving motorists less than thrilled by his arrival.
Andrew Turner tweeted: "So Obama wrecked my A303 journey today, then I see him up close to Stonehenge. One word pretty much describes my feelings. A***."
Andy Procter wrote: "I wonder if Obama got stuck in his own traffic jam. Certainly made my A303 journey past Stonehenge more memorable. And slow."
This week's Nato summit in Newport was held amid an escalating crisis in Iraq and Syria, with Islamic State members threatening to behead a British hostage after murdering two U.S. journalists.
© Copyright IBTimes 2023. All rights reserved.