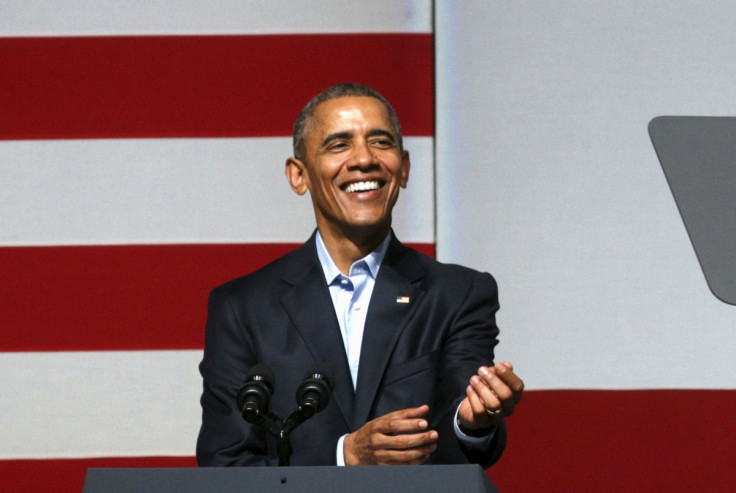 President Barack Obama has said that he doesn't think Republican candidate Donald Trump will become the president of the United States. Obama was questioned on Donald Trump during an interview with CBS's 60 Minutes programme, which aired on Sunday 12 October. He branded the Republican candidate as "a great publicity-seeker" and said that he was unlikely to ever become president.
Obama admitted that Trump had tapped into something real in the Republican Party, referring to anti-immigration views among the Republicans. However, he said that the Republican candidate was a "classic reality TV character" and that, therefore, it doesn't surprise him that he is getting a lot of attention during the campaign's early stages.
"He is a great publicity-seeker and at a time when the Republican Party hasn't really figured out what it's for as opposed to what it's against," Obama said during the CBS interview. "I think he is tapped into something that exists in the Republican Party that's real. I think there is genuine anti-immigrant sentiment in the large portion of at least Republican primary voters. I don't think it's uniform. He knows how to get attention."
When asked if the Republican candidate would eventually run out of steam, the President responded: "I'll leave it up to the pundits to make that determination. I don't think he'll end up being president of the United States."
Meanwhile, Trump hit back at Obama after his interview by tweeting that he did much better on 60 Minutes than the President had done. Trump said that Obama was "terrible" during his interview and criticised the President's view that climate change is the most important out of "current disasters".
The real estate mogul is seeking the Republican Party's nomination for the November 2016 presidential election. However, he has sparked controversy during his campaign by saying that he would build a wall on the US-Mexico border and calling the Syrian refugees "terrorists" and vowing to send them back.
Obama also spoke about Democratic presidential candidate Hillary Clinton and her use of a private email server while she was secretary of state. He said that he had not known about what she was doing but that he also did not believe it posed a threat to national security. He said: "She made a mistake. She has acknowledged it."