Philippines President Rodrigo Duterte is the country's "number one drug addict" according to an opposition politician, who yesterday (30 July) claimed the maverick leader was "crazed by power and Fentanyl".
Duterte, who has presided the extra-judicial killings of at least 7,000 alleged drug dealers since coming to power 12 months ago, was accused of having substance misuse problems by Jose Maria Sison, founding member of the Philippines Communist Party.
"As an addict user of the opioid Fentanyl, Duterte is the number one drug addict in the Philippines and is the most fitting target of the police units that he has turned into death squads and corrupted with money and promotions," Sison said in a statement, reported by teleSUR.
"He is crazed by power and Fentanyl," Sison added.
Duterte has previously admitted to being prescribed Fentanyl, a synthetic opioid 100 times stronger than morphine, for back pain and headaches.
He said that as well as alleviating his distress, it made him feel "on cloud nine", during a speech in Davao City, according to Inquirer.net.
He added that he had taken a dosage four times stronger than what his doctor recommended and that this had made "everything okay with the world – nothing to worry about".
Duterte has attracted condemnation from across the globe for his violent approach to drug crime, which has seen an estimated 10,000 people killed on suspicion of being drug dealers without trial.
The policy is popular with large swathes of the population. In addition, US President Donald Trump is reported to have praised the former lawyer for his approach to the issue.
A leaked transcript of a phone conversation between the two obtained by the New York Times quoted Trump as telling Duterte he had done an "unbelievable job on the drug problem".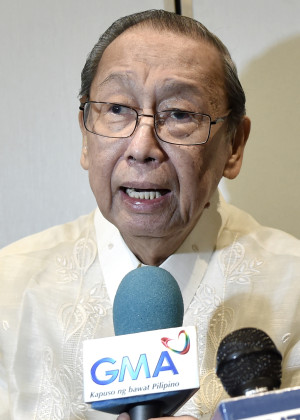 Yesterday, at least 13 people including an elected mayor were shot dead by police in the south of the country for allegedly having links to the drug trade.
"The cowardly Duterte regime kills the poor people extrajudicially by the thousands and even boasts about them, despite the growing outrage of the people in the Philippines and abroad," Sison said yesterday.
"Many people, including his so-called diehard supporters, are waking up to the fact that the illegal drug trade continues to thrive even in Bilibid and that Duterte has been favouring certain drug lords by delivering the street market to them where the low-level pushers of other drug syndicates have been slaughtered," he added.
Sison was exiled in 1987 and his lived in the Netherlands ever since. An outspoken critic of human rights violations within the Philippines, he fears being returned to his homeland where he is accused of orchestrating a political assassination in 2001.