President Trump accuses Obama of wire-tapping Trump Tower during election
President Trump gave no evidence for extraordinary claim.
US President Donald Trump has accused the Obama administration of wire-tapping Trump Tower at the height of the US presidential elections in October 2016.
Trump provided no evidence to back up his claims, made in a series of early-morning tweets, but says lawyers could make a "great case out of the fact".
In a first tweet, posted at 5.35am Eastern time, President Trump says: "Terrible! Just found out that Obama had my 'wires tapped' in Trump Tower just before the victory. Nothing found. This is McCarthyism!"
Fourteen minutes later, at 5.49am, he adds: "Is it legal for a sitting President to be 'wire tapping' a race for president prior to an election? Turned down by court earlier. A NEW LOW!"
Three minutes later, at 5.52am, President Trump writes: "I'd bet a good lawyer could make a great case out of the fact that President Obama was tapping my phones in October, just prior to Election!"
At 6.02am, he brings up Watergate. "How low has President Obama gone to tapp [sic] my phones during the very sacred election process. This is Nixon/Watergate. Bad (or sick) guy!"
President Trump's tweets – often fired out in the middle of the night – have been one of the principal talking points of the early days of his presidency, with some diplomats admitting they study them in depth in a bid to understand where Trump stands on foreign policy.
Some commentators have criticised the tweets as unbecoming of someone wielding such great power, particularly when Trump engages in personal attacks on everyone from Meryl Streep to Chuck Schumer.
However, Trump claims he uses Twitter so he can get his "message" out unadulterated by what he calls "fake news".
In an interview with Michael Gove in The Times Trump says: "The tweeting, I thought I'd do less of it, but I'm covered so dishonestly by the press — so dishonestly — that I can put out Twitter — and it's not 140, it's now 280 — I can go bing bing bing… and they put it on and as soon as I tweet it out — this morning on television, Fox — 'Donald Trump, we have breaking news'."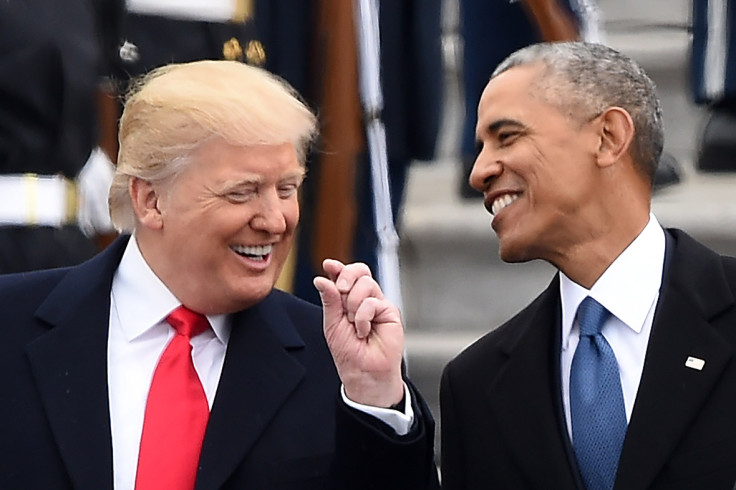 © Copyright IBTimes 2023. All rights reserved.