An Iranian TV anchor who says she spent years being sexually harassed at Press TV has fled Iran as the channel suspended two of its top executives. Sheena Shirani, who was a news presenter at the channel and had been there since 2007, posted a recording on Facebook of her boss at the channel begging her for sex, also sharing screenshots of text conversations the pair had.
In the voice recording shared by Shirani following her resignation from the channel on 2 February, allegedly of news director Hamid Reza Emadi, a man is heard asking the 32-year-old if she will have sex with him "as a friend".
"I've always helped you. I've always been there for you," Iran Wire reported Emadi as saying. "Whenever you wanted something, I've helped you. I'm not asking you to kill someone. You can help me as a friend. You can have sex with me as a friend."
In a screenshot shared with her Facebook followers, Shirani replied to Emadi: "You couldn't have expected me to deal with being sexually harassed on a daily basis forever. I loved through hell. I'm not going to live that life anymore."
She later wrote on her Facebook page: "I just saw a text from a former manager at Press TV, Shahrzad Mir Gholikhan, asking me why I didn't use my fists and feet to stop my former manager, why not scream?!! She also asked me, why these managers didn't come on to her?
"My response: If I was directly supported by the leader of the Islamic Republic, given a managerial position for the 'favours' I had done to Iran, and walked through the building shouting: 'I love agha, I love agha (a term used by some Iranians to refer to the leader)', trust me, no man at Press TV would have dared to try approach me. Unless, I didn't actually mind it happening.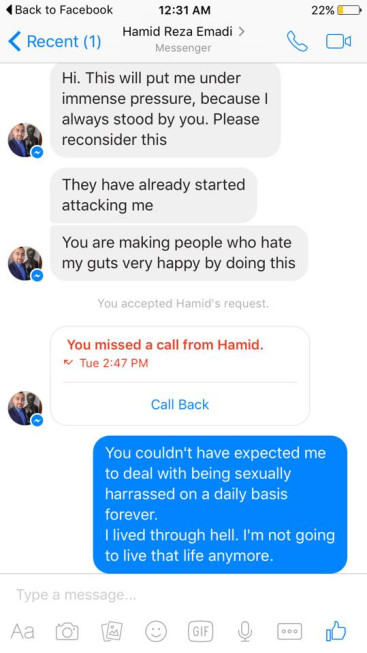 "But I wasn't connected to anyone within the system; I was reminded time and again that I'm no more than an employee who can be fired at a flick of the fingers, that I need Press TV and they don't need me and being a single mum and a divorced woman, I am an easy target and prey for men – And, I'm the one to be blamed for anything that happens to me."
After the mother-of-one's allegations surfaced, Emadi texted her: "Trust me one last time. Do not engage in political stuff, it will ruin your life. I have many friends who did that and are now very regretful. They are in Europe."
Just days after the recording of Emadi was shared on Facebook, Press TV suspended him and Press TV studio manager Payam Afshar, according to Iran Wire.
Neither of the men has commented on the allegations, although it is understood that they both deny harassing the single mother.
After the pair were suspended, Shirani wrote on her Facebook page: "I received a piece of news from a number of reliable sources a few days ago which was heartwarming. Emadi and Afshar have both been sacked by Press TV.
"Yet, I would like to make it clear that me raising this issue wasn't a personal attack on either men. As I've stated before, I am not the first and unfortunately not the last woman to be hurt, offended and intimidated at her workplace."
She has since left the Islamic republic with her son, although their whereabouts is unknown. In the days after she made the allegations, Shirani shared photos of herself from her time at the channel, including one in which she is wearing a grey hijab, stating: "And I was slut shamed for this... I'm sure my good colleagues remember... I was fined... and almost lost my job."
Commenting below the photo, she added: "This picture was taken while I was presenting the news. It went viral over the internet... The difference between the hijab of local news anchors and those at Press TV. I was the worst example. Lol."
She also shared a picture of herself without a hijab, writing next to it: "Since I could never actually fit in... no matter how hard I tried and struggled... I guess it's time for me to introduce you to who I am... time to break free... 'This is Sheena'."
IBTimes UK has contacted Press TV for a comment regarding the allegations and is awaiting a reply.