Millions of Iranians have turned up for rallies to commemorate the 37<sup>th anniversary of the Islamic revolution chanting the traditional "death to the US" and "death to Israel" slogans. Top-level political figures and senior authorities also took part in the celebrations.
Scores of them carried placards and pictures of Supreme Leader Ayatollah Ali Khamenei and the founder of the theocratic nation Ayatollah Ruhollah Khomeini. Iranians regularly commemorate the 1979 revolution but this year's celebrations have gained added significance as they take place within weeks after Tehran's nuclear deal with the world powers came into effect.
Banners with messages like "We are followers of the Leader" and "We don't go dishonoured" were also seen. Although the exact crowd numbers are difficult to estimate, all Iranian media outlets unanimously say millions of people have taken to the streets.
"The unanimous participation of people means national unity, and would solidify our security," said President Hassan Rouhani, who took part in the rallies in the Iranian capital.
"I congratulate the great Iranian nation on the occasion and am thankful to the brave nation that is still present in the [political] scene like early days of the Revolution. Undoubtedly, we will meet all our aspirations, relying on the endeavour of the people, unity, and integration," added the Iranian leader.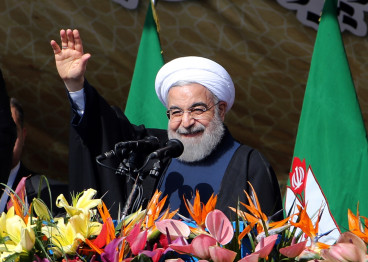 Live images of the rallies were broadcast on most of the state-backed television channels and news outlets. The regime-run television channels have repeatedly run images of Iranian forces capturing 10 US sailors. Iran's Revolutionary Guards has also displayed a long-range ballistic missile in central Tehran. The missile which was test-fired recently had drawn criticism from the West.
"A new model of the [Emad] ballistic missile will be designed and produced in the future with higher precision in hitting targets," said Defence Minister Hossein Dehqan while participating in the gathering, according to local reports. General Qassem Sulaimani, chief of Iranian Guard's Quds Special Forces, was also seen taking part in the rallies.