'Price Tag' Vandals Attack Jerusalem's Dormition Abbey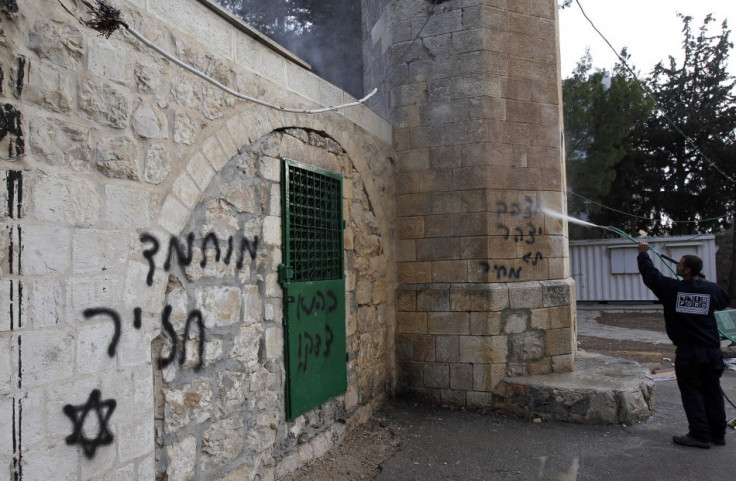 Jewish settlers have defaced with anti-Christian graffiti one of Jerusalem's best known churches in the latest price tag attack, according to Israeli police.
Vandals spray-painted hate slogans such as "Christians are monkeys" and "Christians are slaves" and "Havat Maon" referring to a settler colony in the West Bank in the Dormition Abbey in the Old City on Friday.
The abbey is built on the site where many Christians believe the Virgin Mary died. Police spokesman Micky Rosenfeld said the words price-tag were found scrawled on the church's exterior.
Price tag is a term used by Jewish settlers to describe attacks - usually carried out against Palestinians but also targeting Christian churches and Israeli Arabs - in retribution or punishment for the Israeli government's actions perceived as anti-settler.
The attacks are aimed at exacting "a price" for government actions, such as demolishing settlements.
It is not the first time Jewish settlers have daubed graffiti on Christian monasteries. Last September, Jewish extremists painted "Jesus is a monkey" on the walls of a Christian monastery near Jerusalem.
Earlier this week, Jewish settlers torched three cars and defaced a mosque in a Wadi Ara village. Anti-Arab graffiti and labels such as a Star of David and the words "tag mehir" (price tag) were found on the wall of the mosque.
Last December, clashes between Muslim worshippers and Jewish settlers erupted after a group of price tag settlers broke into the Al-Aqsa mosque in Jerusalem.
Police spokeswoman Luba Samri said that graffiti insulting Jesus Christ was sprayed on the gates of the entrance of the cemetery and in and around the monastery. Phrases such as "Jesus is a bastard" "price-tag" and "Happy Hanukkah", the Jewish holiday, were painted on a car.
The latest attack came after the Israeli cabinet decided to discuss a new policy to label the 'price tag' attacks led by Jewish settlers as terrorist attacks.
© Copyright IBTimes 2023. All rights reserved.