Sophie, Countess of Wessex, appeared in high spirits this morning (19 September) as she received support from her husband Prince Edward before embarking on a charity cycle in Edinburgh.
The 51-year-old, who formerly worked in PR, looked more youthful than ever as she prepared for the Diamond Challenge along with a team of riders at the Palace of Holyroodhouse on the chilly morning in Scotland. They are set to cycle 450 miles to Buckingham Palace in London.
Speaking just minutes before she got on her bike, Sophie admitted to feeling apprehensive. She said: "Standing here right now, I am very nervous. The prospect of the 450 miles is pretty daunting.
"I've been very fortunate to be supported by a lot of family and friends, and I'm incredibly grateful to everybody who's actually supported me. I'm hugely grateful."
The journey will take approximately seven days to complete. Sophie's physical instructor, Rachel McKenzie of the Royal Military Academy Sandhurst, has been training the royal for the big day and joins her on the trip. Sophie has cycled almost 3,000 miles – including on her static bike at Balmoral, Aberdeenshire – to prepare for the challenge.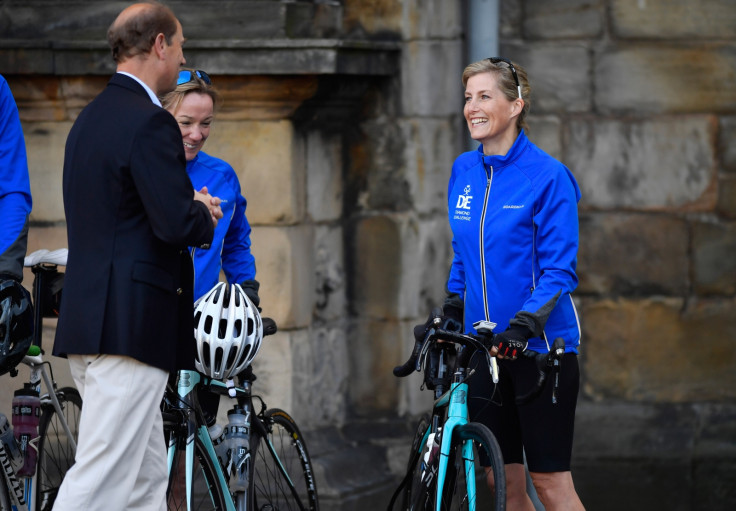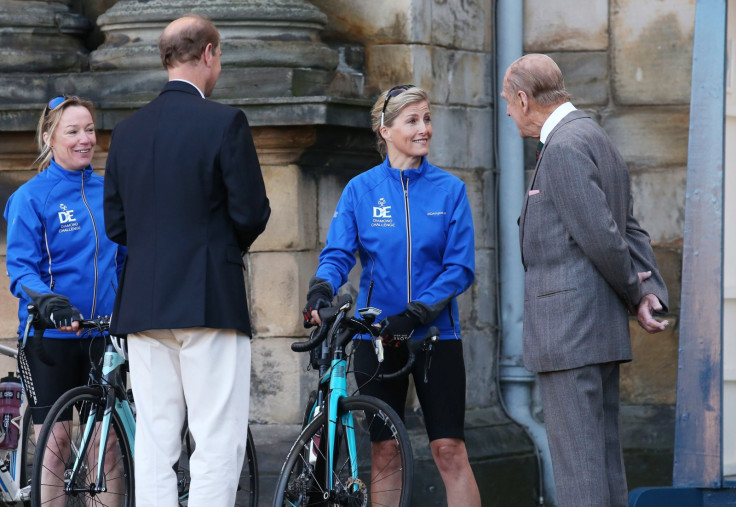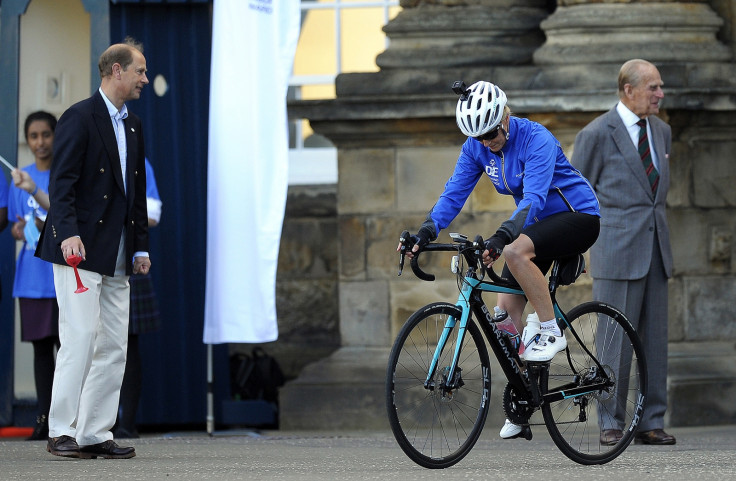 Looking every inch the pro cyclist in short leggings, a royal blue waterproof jacket and white trainers, Sophie still inserted a touch of glamour into her sporty look with a sleek updo hairstyle.
And it appears as though her husband of 17 years – Prince Edward, 52 – was just as taken by her as gathering onlookers. The youngest son of the Queen looked smart in a navy blazer and cream chinos and bid farewell to his wife and her teammates as they began their cycle in support of The Duke of Edinburgh's Award in its 60<sup>th year.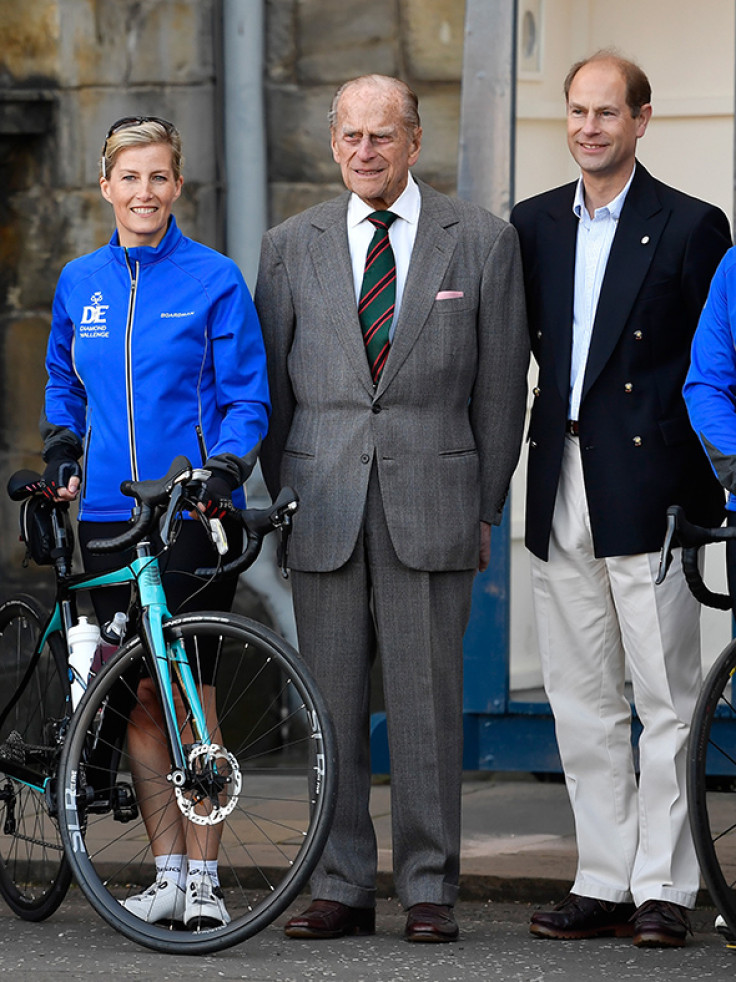 The royal couple laughed and joked while looking into each other's eyes before Sophie headed off, and Edward could be seen offering his wife support, and maybe a few words of advice, before the physical challenge commenced.
Edward's father, 95-year-old Prince Philip, was also at the scene and in a smiley mood as he also saw his daughter-in-law off. The Duke of Edinburgh Award scheme was founded by him in 1956 and is the generic name for a youth awards programme. It has since expanded to 144 nations and awards young adults for completing a series of self-improvement exercises modelled on Kurt Hahn's solution to the "Six Declines of Modern Youth".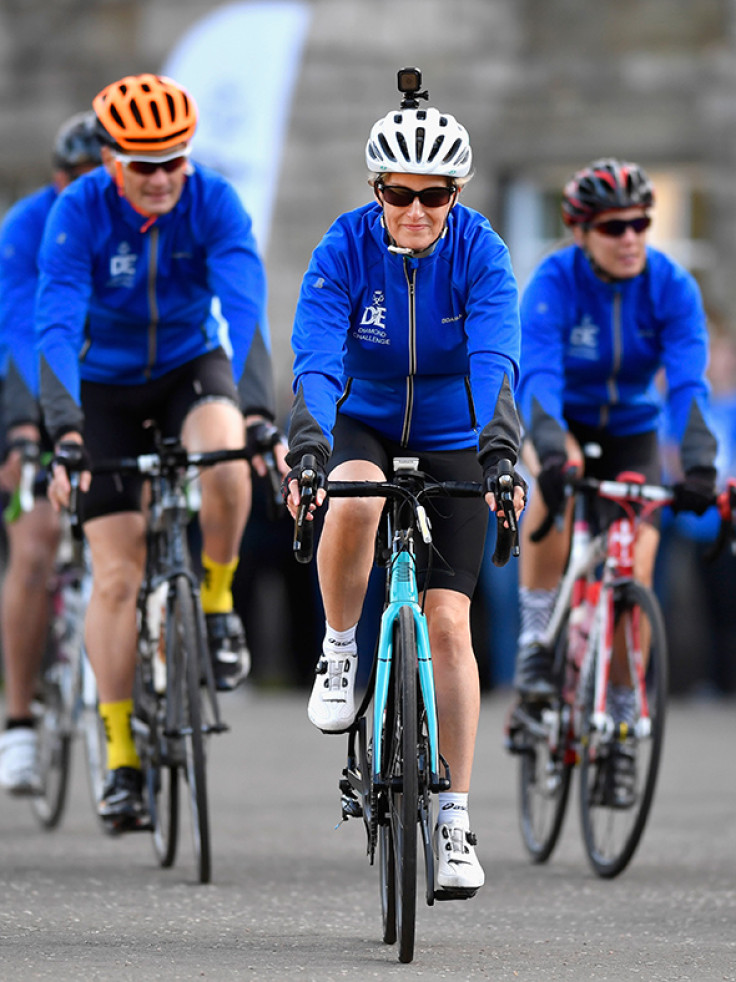 Before Sophie's team set off, Princes Philip and Edward met and chatted to young people who have completed their own Diamond Challenges in the award scheme's 60<sup>th anniversary year.
Speaking of her training technique, the countess added: "I've been very lucky that a PTI from Sandhurst has been pushing me around quite a lot of hills and lanes of Hampshire, and all sorts of places actually.
"It's been a lot of hard work, a lot of early mornings and many hours in the saddle."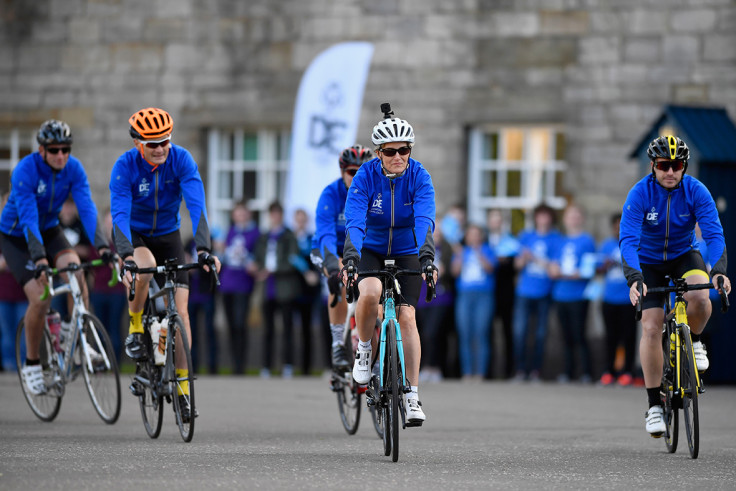 Sophie will undoubtedly have support from her six team members throughout the challenge, which includes riders drawn from the four Royal regiments she is linked to: 5th Battalion The Rifles, RAF Wittering, Queen Alexandra's Royal Army Nursing Corps and Corps of Army Music.
Her team also includes members from the Army Physical Training Corps and Boardman bikes.