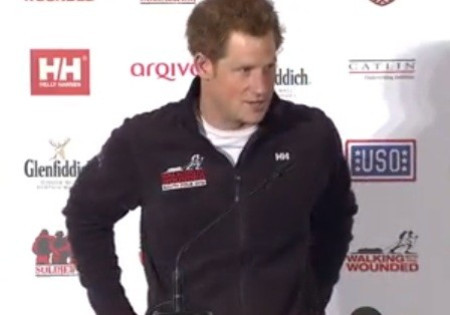 Prince Harry has announced he will be walking to the South Pole as part of an expedition for Walking with the Wounded, a charity for war veterans.
He made the announcement in a live broadcast, explaining he will be part of the British team racing to beat two other groups from the US and the Commonwealth to the Earth's most southerly point.
Walking with the Wounded was set up three years ago to help injured soldiers with the transition between military and civilian life. Previously, the charity's expeditions included a trip up Everest and the North Pole.
Introducing the team, Harry said: "So, here we are again: Inge Solheim, the Norwegian slave-driver/heavy snorer, our leaders Ed Parker and Simon Daglish - they who share a mere follicle between them - and some new friends, the stars of the show: the men and women of the Walking with the Wounded South Pole Allied Challenge.
"The format may be different. The scale is certainly different. But the aim remains the same, to enable our wounded to do what they and all other Servicemen and women do better than anyone else I know: meet challenge head-on and overcome it and inspire others to do the same."
The expedition team will leave the UK on 18 November when they will fly to Cape Town and on to Novo in the Antarctic. They plan to start the trek at the beginning of December.
Unquenchable spirit
"These men and women have given their all in the cause of freedom, in our cause. That they should once again step into the breach - this time facing down the extreme physical and mental challenges of trekking to the South Pole - just underlines their remarkable qualities," Harry said.
"So, what are these qualities? Courage, to be sure. Physical strength, endurance, a sense of comradeship, absolutely. But there's something else, something deeper than that. Something that continues to draw me back to this charity and these people time and again - and always will.
"It's toughness of mind. An unquenchable spirit that simply refuses to say 'I am beaten'."
The team will face a 330km trek to the South Pole, during which they will face temperatures dropping as low as -40C. It is a managed race, so the team will have to stop at every degree point en route for medical checks and rest.
Speaking about the competitive aspect of the race, Harry concluded: "So, it just remains for me to say to 'Soldier On Canada', 'Soldiers to Summits' from the US and 'Soldier On Australia', welcome to the party. As a member of the British team, I will have a brew on ready for you when you join us at the Pole."