Cressida Bonas is seen breaking down in tears in James Arthur's new music video in what appears to be very pertinent timing.
The 28-year-old aspiring actress can be seen welling up while wearing a bridal-inspired white lace dress in the former X Factor winner's video for new track Naked.
It comes in the same week that Bonas' former boyfriend Prince Harry announced his engagement to US Suits actress girlfriend of 16 months, Meghan Markle.
Bonas was Harry's last serious relationship before Markle won his heart sometime in the summer of 2016. She was widely expected to marry Harry until their break-up in 2014, reportedly caused by Bonas wanting to pursue a career in the entertainment industry.
Despite shedding a few tears, the Winchester-born star looks beautiful in the video as she is seen cosying up to Arthur, before they lovingly stare into each other's eyes. She wears stylish gemstone drop earrings and completes her white frock with some burgundy embellished heels.
Fans have already begun commenting on Arthur's latest musical offering, with most ignoring Bonas' presence altogether. One person wrote: "Emotional Song. Another Masterpiece from James Arthur."
While another put: "I love this song! Emotional, amazingly written. ❤️".
A third added: "This song is gonna blow up in no time."
Bonas shared a post about starring in the music video onto her Instagram account, writing: "Loved doing this job and working with the hugely talented @jamesarthurinsta23 and wonderful director @_marioclement [...]".
Bonas' latest appearance follows her cryptic Instagram message earlier this week which was speculated to be about Harry. It read: "No matter how educated, talented, rich or cool you believe you are, how you treat people ultimately tells it all".
Her fans were quick to link her remark to the royal engagement, with one person writing: "english rose . great girl not a social climber. good luck".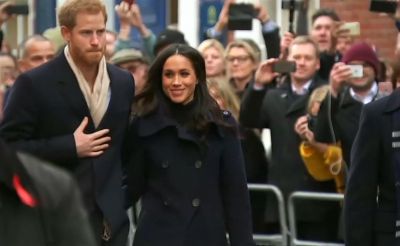 Someone else added: "you're a proper princess ... have a nice day".
Markle has also made headlines today for making her first royal engagement with Prince Harry at Nottingham Contemporary.
Royal commentator Richard Fitzwilliams saw the couple on their walkabout, and told IBTimes UK: "She's totally at ease, I've just watched the walkabout. This sort of exposure, which some will find daunting is what she is experienced at and this is also a reason why they have begun engagements so soon."