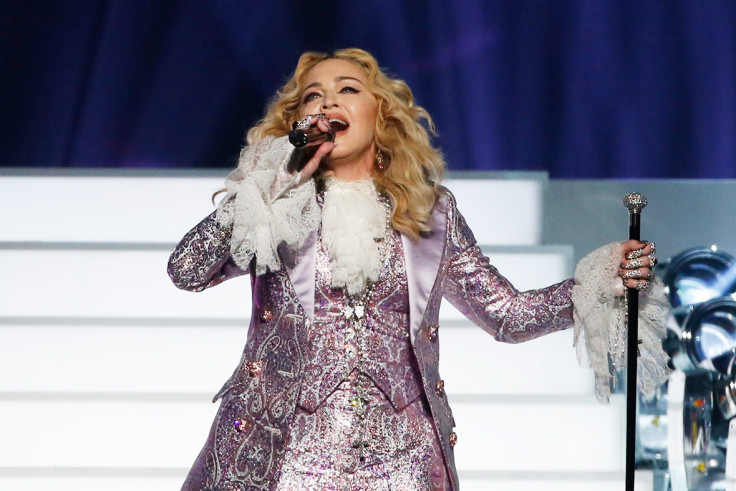 While Madonna is still facing a public backlash on social media in the aftermath of her controversial tribute to Prince at the Billboard Music Awards on Sunday (22 May), it seems the music icon might have been similarly unimpressed, as an ex-girlfriend of the Purple Rain singer has revealed that he wasn't the biggest fan of Madonna.
British model Anna Fantastic was in a relationship with the Grammy-award winning star in the late '80s. She claims that after recording the duet, Love Song, with Madonna for her Like A Prayer album, Prince turned down an invitation to shoot a video with the Material Girl.
Anna told TMZ.com: "You know I was there when they recorded their duet together, Love Song and she really wanted to do a music video and he refused. I think he liked the song, but didn't want to do a video. I even said, 'I think you and Madonna in a video could be really cool, and he said, 'Me and Madonna in a video? No thanks.' "
And while Madonna has claimed that she was a close friend of the late singer, his former girlfriend also cast doubt on the extent of their association.
Anna described how Madonna had pleaded with Prince to be in the video, telling him that it would help lift her spirits while she was in the process of divorcing Sean Penn. "She (Madonna) also said, 'I'm going through a lot right now with my divorce with Sean. And he said, 'What has your divorce with Sean got to do with me or this song? I'm not doing a video with you.' They didn't seem like really good friends," Anna added.
Anna - who met Prince at his concert in London when she was just 16, and remained on good terms with him following their split - also revealed that the singer had approached Prince about a joint tour last year.
"Last year she wanted to do a tour with him and he said something like, 'it's too much, the world can't handle this' or, 'it's too much for the world to handle right now', but he had a great sense of humour."
In a much hyped tribute to the music icon at the Billboard Music Awards, Madonna sang the Prince-penned track Nothing Compares 2 U, which was a UK hit for singer Sinead O'Connor. While emulating his unique sartorial style, unfortunately her sombre tribute failed to replicate his unmistakable star presence and the 56-year-old was lambasted on social media. And while Stevie Wonder also accompanied her in a performance of Purple Rain, the tribute was deemed lackluster and unbefitting of the much-loved star's energy and presence.
Defending the backlash against her rendition, Madonna responded with a characteristically defiant tweet saying: "Anyone who wants to do a tribute to Prince is welcome to. Whatever your age Gender or skin Color. If you loved him and he inspired you then show it!!!! I love Prince 4 ever".
The tribute at the annual award ceremony comes a month after Prince was found unresponsive in the lift of his Paisley Park compound in Minnesota. Following the news, which left fans around the world reeling, Madonna posted a photo of the pair on her Instagram page, writing: "He Changed The World!! A True Visionary. What a loss. I'm Devastated. This is Not A Love Song."
An investigation into the death of the 57-year-old is ongoing, as police consider the singer's alleged addiction to prescription painkillers and investigate whether criminal conduct might have been a factor in his unexpected passing.