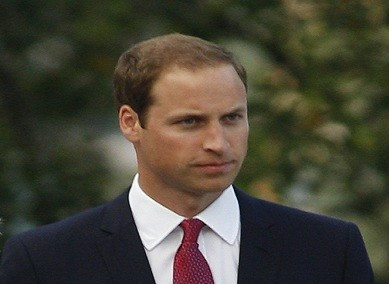 Prince William has attended the funeral of his former nanny, Olga Powell.
The prince took part in the private service at Parndon Wood Crematorium, in Harlow, Essex. A large congregation was present and it was standing-room-only in the modern chapel.
Prince William cleared his diary to attend the funeral of Mrs Powell, cancelling a tour of the north east - meaning a first solo public engagement for wife Catherine, the Duchess of Cambridge.
Also in attendance were Princess Diana's sisters, Lady Jane McCorquodale and Jane Fellowes. Prince Harry was unable to attend due to military duties in Afghanistan.
Mrs Powell died in September at the age of 82 at her home in Hertfordshire, and the princes were said to be devastated by news of her death.
She was the princes' nanny for 15 years during a turbulent period for the royal family, which included the divorce of Charles and Diana and the death of their mother in 1997, and became a close family friend.
The princes were like "my grandchildren," Mrs Powell revealed, on the eve of the royal wedding between William and Kate in 2011.
Parndon Wood Crematorium is a low, plain building in the mid-20th century manner. It was rescued from disrepair last year when the council handed control to a private firm with plans for a makeover.