Princess Diana's old Audi convertible will be among a million-pound collection of cars owned by the rich and famous being sold next month at a Birmingham auction.
The Queen's Bentley and Elton John's Rolls-Royce Phantom also join the incredible 12-car collection, owned by a private gentlemen along with a 1972 Fiat 500L – valued at £22,000 – which former Prime Minister David Cameron once bought as a gift for his wife Samantha.
The late Princess of Wales' 1994 Audi Cabriolet is expected to draw particular interest at the showcase. She drove approximately 4,000 miles in the convertible green sports car and it has been valued at around £50,000 – three times more than Cameron's old Fiat. Young Princes William and Harry were occasionally photographed travelling with their mother in the car.
Two of The Queen's old cars will be on offer – with the Mulsanne limousine – built by Bentley in 2012 as a present for her Diamond Jubilee tour of Great Britain – expected to be a star contender.
It is estimated that the resplendent green motor will sell for £235,000. It was fitted with armour protection, reinforced tyres and walnut burr veneered picnic tables. It also features waist rails that bear the Royal crest. The Queen arrived at her only Cabinet Meeting at 10 Downing Street in 2012 in the vehicle.
Her other car, a 2001 Daimler Supercharged V8, is expected to sell for around £60,000 at the Silverstone Auctions' Classic Motor Show Sale. It will take place at Birmingham's National Exhibition Centre (NEC) on November 12 and 13.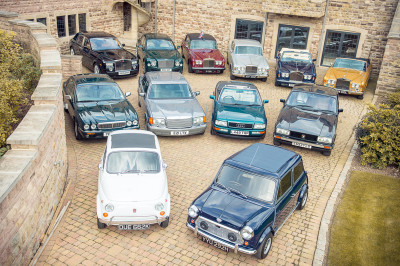 Her Majesty travelled more than 11,000 miles in the car, which includes a number of modifications including a factory-adapted armrest with a sliding holder, specifically designed to hold her particular type of handbag.
Other cars in the big 12 are Princess Margaret's 1980 Rolls-Royce Silver Wraith II – worth around £110,000, film director Michael Winner's 1978 Bentley T1 and singer Will Young's old Bristol Brigand.
Singer Elton John's 2005 Rolls-Royce Phantom will also go on sale – with the dramatic black car valued at approximately £155,000. He arrived in the classic car for his civil partnership ceremony to partner David Furnish at the Guildhall in Windsor on 21 December 2005.
Nick Whale, managing director of Silverstone Auctions, said: "We anticipate a huge amount of interest in these cars from across the globe. These cars have been wonderfully cared for over their lifetimes and we look forward to finding them new homes".
FULL LIST OF CARS AT AUCTION
1988 Mercedes-Benz 560 SEL - formerly the property of King Hussein and Queen Noor of Jordan, valued at £25,000-£30,000
1976 Bentley T1 - Michael Winner, £40,000-£50,000
1970 Wood & Pickett Mini Cooper S Mk II - John Hammell (Paul McCartney's PA), £45,000 - £55,000
1994 Audi Cabriolet - Princess Diana's family car, £50,000-£60,000
1972 Fiat 500L - Samantha Cameron, £18,000-£22,000
1987 Bristol Brigand - Will Young, £50,000-£60,000
1973 Rolls-Royce Corniche Convertible - unnamed owner, £90,000-£110,000
1980 Rolls-Royce Silver Wraith II - HRH Princess Margaret, £90,000-£110,000
2005 Rolls-Royce Phantom - Sir Elton John, £135,000 -£155,000
1984 Rolls-Royce Corniche Convertible - Qatari Royal Family, £100,000 -£120,000
2012 Bentley Mulsanne - Queen Elizabeth II, £215,000-£235,000
2001 Daimler Supercharged V8 - Queen Elizabeth II, £50,000-£60,000