Precious metal palladium doesn't often fire up traders' appetite, but its market performance has been nothing short of spectacular in the first few trading weeks of 2017.
At the close of trading on Friday (13 January), palladium breached the $750 an ounce barrier, notching gains of over 10% since the first trading day of the year (see chart below). The latest climb follows a near 20% gain the precious metal achieved last year, outperforming both gold and silver, as well as what many perceive to be its sister metal platinum, which rose a mere 1% on an annualised basis over the same period.
There are several factors behind the palladium spike. For starters, it is used in autocatalysts for petrol vehicles, and as scandals continue to drag down diesel vehicles, first VW and now Fiat Chrysler, City analysts believe there would be a push back towards petrol vehicles by automakers and buyers alike.
Furthermore, there's the Donald – many believe incoming President Trump's policies, regardless of how they are perceived globally, are likely to provide a boost to domestic car manufacturing in the US.
Away from the auto industry's usage of palladium, data points to an uptick in manufacturing both in US and China, which is also beneficial to the precious metal since it is used in electronics and chemical processing.
Given the above, Charles Long, mining analyst at Beaufort Securities, believes the agreeably docile and predictable palladium market has had to soak in a lot of positives which are reflected in the price rally.
"The recent spike has a bit of everything thrown into the mix – improving fortunes of automakers, growing mistrust of the diesel engine [courtesy VW and Fiat Chrysler scandals] and supply/demand permutations. In many ways, palladium's use by selected industries makes its rise easier to predict, unlike other precious metals such as gold and silver which are directly influenced by monetary policy and investors' risk appetite."
Furthermore, Charles Gibson, director of mining at Edison Investment Research, says market sentiment is everything. "There is a perception out there that a switchback to petrol cars [using palladium in their catalytic converters] has already begun. This may or may not be true, but its boosting palladium's price and dampening the rise of its sister metal platinum [used for catalytic converters in diesel vehicles]."
In fact, given the paltry rise platinum registered in 2016, divergent bets between the two are becoming apparent. "Historically, platinum and palladium prices have been closely aligned. However, of late, platinum is behaving more and more like a precious metal, while palladium is behaving more like an industrial metal of a high price."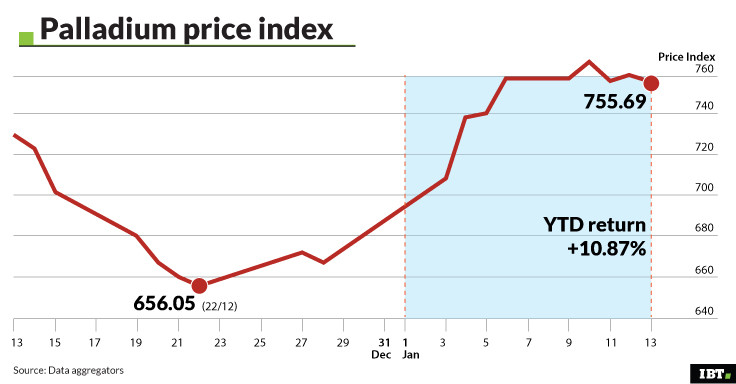 Despite efforts to promote palladium as a viable alternative to platinum for jewellers, its pure form is seldom seen in jewellery; a thought not lost on those making bullish calls on palladium. There is also a sense in the market that the last wave of selling and profit-taking to cash in on the 2016 palladium spike is now over.
A jolt arrived in December after exchange traded funds (ETFs) either side of Atlantic decided to divest their palladium holdings. Among them, London-listed Source Physcial Palladium sold over 100,000 ounces. It sent the price tumbling back down $650 levels.
However, Gibson says supply, demand scenarios they are fundamentally in line. "The market does look to ETFs, but since the last selling rally has ended, the palladium market will in all likelihood record another deficit with production having fallen in 2016."
Nonetheless, Long says caution is merited. "ETF trading is always volatile, and could disrupt the balance especially in the second half of the year. Furthermore, macro risks are aplenty, especially if the US economy doesn't quite fire-up."
Both Gibson and Long believe that while palladium is currently reaping the benefits of a perceived diesel vehicle turn-off, more medium term, should electric vehicles take-off, the impact would be felt. However for the moment, palladium continues to lead the precious metals market.