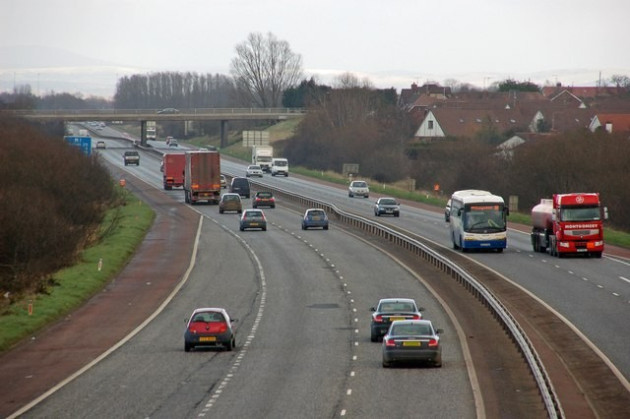 A prison officer has been shot dead while driving to work on the M1 motorway in Northern Ireland.
The Police Service of Northern Ireland (PSNI) confirmed the vehicle was involved in a crash after allegedly being shot at on the motorway between Lurgan and Portadown in County Armagh.
David Black, 52, was on his way to Maghaberry high-security prison when he was ambushed by armed republicans opposed to the peace process.
Ulster Unionist Party leader Mike Nesbitt said: "We're hearing that there's a car burnt out in north Lurgan and so it does seem to have the hallmarks of a terrorist assassination."
The father-of-two from Cookstown is the 30th prison officer to be killed in Northern Ireland since 1974.
The PSNI originally treated Black's death as a road accident but a follow up investigation revealed shots had been fired at the car.
A spokesman for PSNI said: "Police believe from an examination of the scene on the motorway that shots may have been fired at the vehicle. There are no further details at this time."
In a joint statement, Northern Ireland's first and deputy ministers condemned the attack.
Peter Robinson and Martin McGuinness said: "People who work for the Prison Service play a crucial role in our community and any attack on them is an attack on all of us.
"Actions like this have no place in society and those who carried out this murder have nothing positive to contribute.
"We refuse to let the people behind this attack divert us from building a better and peaceful future for everyone."
The motorway is closed in both directions following the incident.
Dissident republicans have been involved in long-running protests against jail conditions at Maghaberry Prison, including hunger strikes and refusing to wash.
'The attackers represent the past'
Nesbitt continued by describing the attack as "a tragedy for this man's family. We offer our sincere condolences to them and hope that they gain strength to see them through the coming days.
"Those who have carried out this attack on an innocent man represent the past and have nothing to offer the men, women and children of this country who have long since rejected terrorism.
"At this stage I would ask people to focus on supporting this man's family and that if anyone has information regarding this attack, to contact the Police Service of Northern Ireland."
Justice Minister David Ford said: "This is a horrific murder, for which there can be no justification and will be rightly condemned by all across Northern Ireland.
Alliance Justice party spokesperson Stewart Dickson, whose minister is in charge of justice and policing in the Northern Ireland Executive, said he was sickened by the ambush.
He said "I am absolutely sickened at the brutal killing of this man. It is appalling that anyone could be ambushed like this as they go about their daily business.
"There are no words to condemn this brutal murder, which is an attack on our whole society. I would appeal for the local community to remain calm and anyone with any information to contact the PSNI as soon as possible.
"This is a human tragedy and my thoughts are with the victim's extended family."
Jeffrey Donaldson, MP for Lagan Valley, said: "This is a terrible tragedy. Once again, a small minority are trying to drag us back to the dark days."