Pro-democracy parties eye Hong Kong election win after record voter turnout
Hong Kong witnesses 58% voter turnout or 2.2 million voters in crucial elections.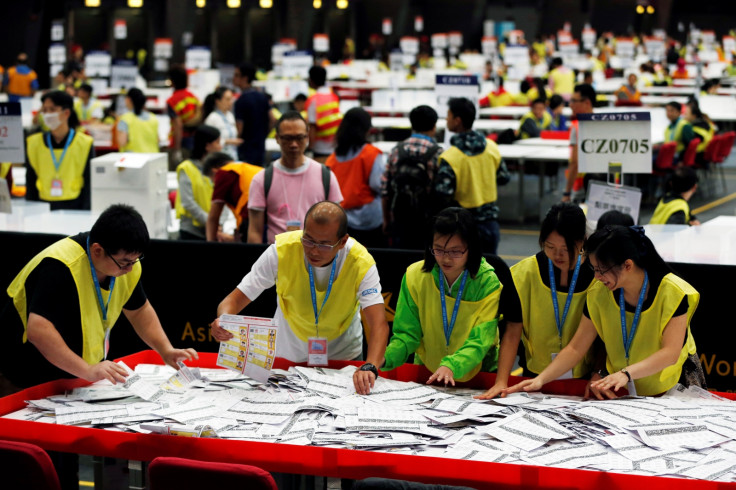 Pro-democracy parties are tipped to win the Hong Kong elections following a record voter turnout. The polls were the first since anti-China protests broke out in 2014 and seen as the most vital elections since the former British colony was handed over to Beijing in 1997.
While counting is underway, the 58% turnout, or nearly 2.2 million votes, was the highest-ever in the semi-autonomous region. The turnout highlights the increasing eagerness of Hongkongers to voice their stance especially on China-related political matters. Final results are expected to emerge later today (5 September).
"There was a record-breaking amount of people casting their ballots this year," Electoral Affairs Commission chairman Barnabus Fung told reporters. The turnout was about 45% when elections took place in 2008. Beijing is closely watching the elections and is likely to take clues when the Hong Kong's chief executive is elected in 2017.
"I think Hongkongers really wanted change. Young people have a sense of urgency when it comes to the future," Nathan Law, 23, leader of the pro-independence Demosisto, told the Guardian.
The elections for the city-state's powerful Legislative Council took place on Sunday (4 September) amid concerns that China is tightening its grip on Hong Kong undermining the "one country, two systems" agreement.
When asked about the poor planning and allegations of minor malpractices, Fung said: "When a record breaking 2.2 million people are voting ... queuing is inevitable. We took some precautions to make sure the voting is [carefully done], and it took longer... You need to queue up even when you are going to the bank."
All eyes are on the pan-democrat lawmakers, who currently control 27 seats in the 70-seat assembly. It is not possible for pro-democracy groups to gain a majority in the Legislative Council as only 40 seats are up for grabs while the remaining 30 are nominated to represent special trades who usually favour China. Nonetheless, pro-independence parties do not want to allow a two-thirds majority for pro-Beijing groups in order to prevent them from implementing radical policy changes.
© Copyright IBTimes 2023. All rights reserved.