Processions, lunches and concert to crown King Charles III
Charles' wife, Queen Consort Camilla, 75, will also be crowned.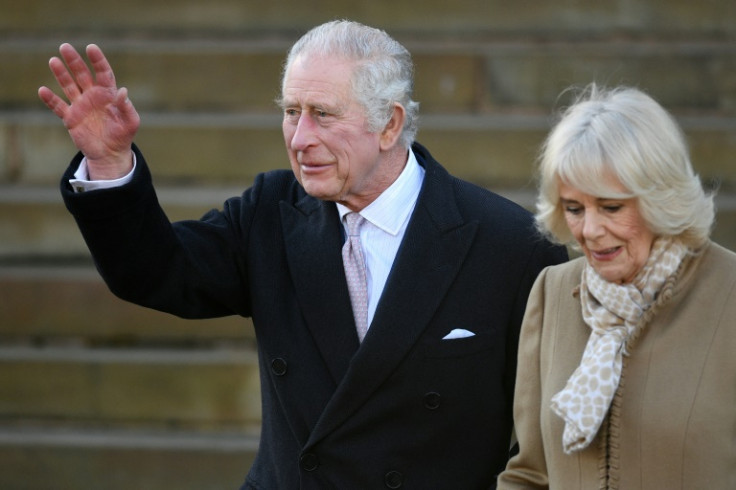 The coronation weekend for King Charles III will feature a star-studded concert, nationwide "big lunch" and volunteering initiative as well as the traditional ceremony and royal processions, Buckingham Palace announced late Saturday.
The three days of ceremonial, celebratory and community events in early May will be a chance for "people to come together in celebration of the historic occasion", the palace said in an update on its much-anticipated plans.
The landmark long weekend looms with the monarchy still grappling with the fallout from the publication earlier this month of Prince Harry's scorching tell-all memoir "Spare", in which he made a series of incendiary claims against the family.
It is unclear whether US-based Harry -- Charles' younger son -- and his American wife Meghan will attend the coronation, with a recent Sunday Times report claiming a reconciliation could still take place prior.
Charles, 74, immediately became king when Queen Elizabeth died aged 96 on September 8 last year, ending her record-breaking 70-year reign after a year of declining health.
He also took over as head of state of 14 Commonwealth countries, including Australia, Canada and New Zealand.
The coronation traditionally takes place some months after a new sovereign has ascended to the throne, following a period of national and royal mourning as well as intense preparation.
The country's first coronation since 1953, set to be watched worldwide and feature various global dignitaries, will begin with Charles' formal crowning at London's Westminster Abbey on Saturday May 6, in a tradition dating back more than 900 years.
Buckingham Palace has previously said the service, to be conducted by Archbishop of Canterbury Justin Welby, will reflect the monarchy's historic traditions alongside its modern role.
"The Coronation is a solemn religious service, as well as an occasion for celebration and pageantry," it noted.
Charles' wife, Queen Consort Camilla, 75, will also be crowned.
The pair will arrive from the palace without other royals in "The King's Procession", before returning in a larger ceremonial entourage known as "The Coronation Procession" featuring other family members.
Once back at the palace, the opening day will conclude with the royals appearing on the balcony overlooking The Mall where thousands of people are expected to gather.
The next day will then see a "special coronation concert" staged at Windsor Castle, west of London, to be produced and broadcast live by the BBC and featuring "global music icons and contemporary stars".
Several thousand pairs of tickets will be made available through a public ballot, while volunteers from charities supported by Charles and Camilla will also be able to attend.
The concert will feature a "world-class orchestra" playing interpretations of musical favourites "fronted by some of the world's biggest entertainers, alongside performers from the world of dance".
A "coronation choir", drawn from diverse community choirs and amateur singers nationwide -- such as Refugee choirs, NHS choirs, LGBTQ+ singing groups and deaf signing choirs -- will also make an exclusive appearance.
A "virtual choir" made up of singers from across the Commonwealth will also perform, while the castle's East Lawn will host a selection of spoken word sequences delivered by stars of stage and screen.
But the centrepiece of the evening event will be a "lighting up the nation" segment which will see iconic locations across the UK lit up using projections, lasers, drone displays and illuminations.
Also on May 7, neighbours and communities will be invited to host thousands of "coronation big lunches", billed as a "nationwide act of celebration and friendship".
"From a cup of tea with a neighbour to a street party, a coronation big lunch brings the celebrations to your neighbourhood," said the palace, which expects events in streets, gardens, parks and community spaces.
The scheme will be overseen and organised by a team from the Eden Project, the eco-friendly visitor attraction in Cornwall, southwest England.
Camilla has been patron of its annual "big lunch" initiative -- which aims to boost community spirit, reduce loneliness and support charities and good causes -- since 2013.
The final part of coronation weekend, dubbed "the big help out", will be held on Monday May 8 -- designated a public holiday in the UK this year.
Organised by community forum The Together Coalition and partners including The Scouts, the Royal Voluntary Service and various faith groups, it will "highlight the positive impact volunteering has on communities across the nation".
People will be encouraged to try volunteering for themselves and join initiatives in their local areas in a bid to create "a lasting volunteering legacy from the coronation weekend".
© Copyright AFP 2023. All rights reserved.