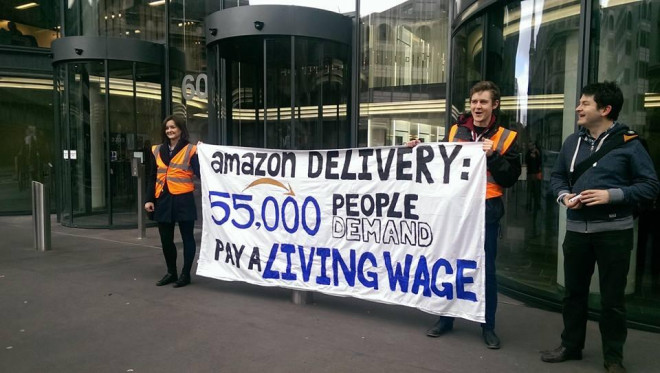 Activists in the UK, France and Germany are joining forces to take on Amazon over workers' rights and the level of tax the internet giant is paying.
The activists say that 90% of Amazon's staff are on temporary contracts whereby they work very long shifts and are paid below the living wage, a concept that calculates how much people need to earn in order to not live in poverty.
At the moment, the minimum wage in the UK is £6.31 per hour. The Living Wage Foundation calculates that the living wage for people within London should be £8.80, while outside London the wage should be £7.65 per hour.
In the UK, an activist group called Amazon Anonymous has formed, born from a Change.org petition started in December 2013 by activist Emily Kenway. The group represents an anti- Amazon front, including booksellers to trade union GMB to Ethical Consumer magazine.
Kenway delivered the list of 55,000 signatures and a letter to Amazon's UK offices in Holborn on 28 February.
Contacting Amazon
To date, the petition has collected over 59,000 signatures asking Amazon to raise its wages and improve worker rights, demanding breaks longer than 15 minutes, an end to compulsory overtime after 10 hour shifts and the monitoring and timing toilet breaks as they work in the online superstores' giant warehouses.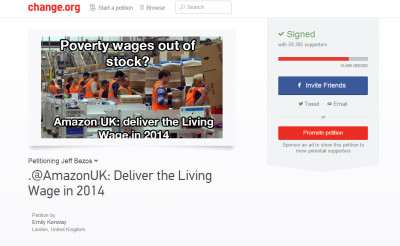 Kenway, who started the campaign in her spare time, has finally received a direct response from the Employee Relations department in Amazon.
The email from Amazon read: "Permanent UK associates start at a minimum of £7.10 per hour increasing to a median of £8.00 per hour after 24 months...additional benefits for permanent employees include private medical insurance, a company pension plan, life assurance, income protection and an employee discount."
However Kenway argues that this is not good enough, since 90% of Amazon's staff are on temporary contracts, which, while they are not zero hour, often end within three months.
"Amazon has a huge work force at seven warehouses in the UK, and while we don't know what their total workforce is, they take on around 15,000 temp workers around Christmas alone," she tells IBTimes UK.
"We want Amazon to treat their workers like human beings, not robots. In terms of pay, the objective is for them to pay living wages to all their employees, both temporary and permanent. We also want them to reassess the conditions their employees are working under.
"I've spoken to lawyers, and the breaks that Amazon gives employees during a 10 hour shift is scraping the barrel and only just about legal."
Difficulties in unionising
The GMB trade union is attempting to recruit Amazon workers to unionise but claims it faces numerous barriers.
"Unfortunately 90% of the workers are on temporary contracts and this is not the sort of thing you can talk about easily at work out of fear of being dismissed, so a lot of people would like to join but it's very slow," GMB national organiser Martin Smith told IBTimes UK.
GMB is now working together with CGT, the French trade union, as well as Ver.Di, a German trade union. The German trade union was able to unionise Amazon workers and went on strike in January. Amazon has now said it will meet with them to discuss worker's rights at warehouses in Germany.
Following the German union's success, the French union went on strike in Lyon last week, and is hoping for a similar result.
However, since Amazon Anonymous and GMB haven't been able to get Amazon workers to unionise in the UK, they are planning activities this year to highlight how the online giant is acting to the UK public, in the hopes that Amazon will change its ways.
"We have a series of stunts and actions – funny ones and serious ones – planned for the rest of the year, all of it designed to make Amazon change their practices," says Kenway.
"We're going to make sure Amazon customers in the UK know exactly what goes on behind each purchase they make. We're talking about warehouse employment conditions that are really from the 19th century, lurking behind a company which claims to be in the 21st century," Smith says.
IBTimes UK contacted Amazon UK and has received the following response:
Today, permanent employees make up the vast majority of the workforce. That proportion will increase over the course of the coming months as more permanent employees come on board.
We do not monitor toilet breaks
Every associate working a ten-hour shift is given three breaks per shift, two 15 minute breaks and one 30 minute break.
Further information about our centres can be found at www.amazon.co.uk/fcpractices