Pro-life protesters have forced the closure of an abortion clinic for what is believed to be the first time in the UK.
Pro-life protests have occurred outside clinics across the UK in recent months, with campaigners holding placards with graphic images and "harassing" woman as they enter the buildings.
These protests have resulted in MPs urging police to implement "buffer zones" to stop anti-abortion campaigners from demonstrating directly outside clinics. Such measures are already implemented in countries such as the US, Canada and France.
The British Pregnancy Advisory Service (BPAS) has now stated that an abortion clinic has closed as a "direct result of protest activity — a first in the UK".
Pro-life campaigners Abort67 claimed on their website that a GP surgery in Blackfriars, in central London, was the clinic due to be closed due to their work of "exposing abortion".
The clinic has seen frequent protests held by the group outside the building ever since it opened in 2014. According to an early day motion in the House of Commons by Diane Abbott, Labour MP for Hackney North and Stoke Newington, the protests meant the practice "feels so intimidated that it has asked to close the service down".
However, BPAS denied the Blackfriars clinic was due to be closed down, but confirmed another had been, although it declined to say which one.
Abigail Fitzgibbon, head of advocacy and campaigns at BPAS, told campaign group Stop the Harassment: "The threat the activists pose isn't just that they harass women and staff outside clinics, but that they are actually trying to close clinics down or prevent them from opening in the first place.
"We came very close to that happening to a BPAS clinic in Blackfriars (central London). Unfortunately another clinic, not a BPAS one, did eventually have to shut down due to the unmanageable protests. There's a handful of anti-abortion protesters who will go to these lengths, but you only need a handful to create absolute havoc."
IB Times UK has contacted BPAS for clarification. A spokesperson for Blackfriars Medical Practice said it is "not at liberty" to respond to the claims.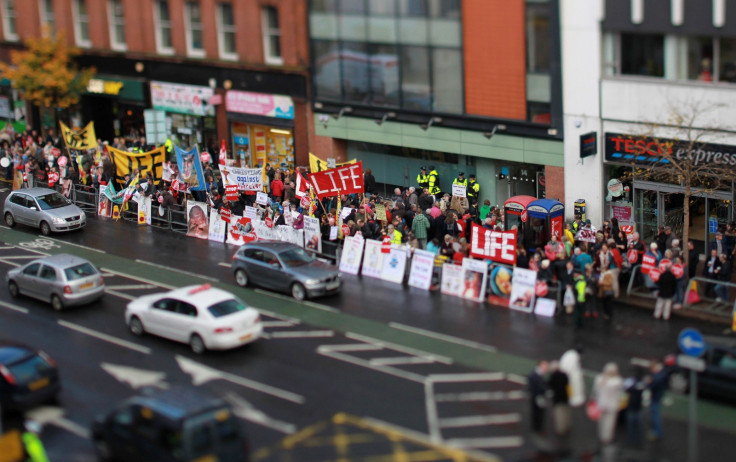 Marie Stopes, whose clinic in Belfast has also seen a number of protests from groups such as Precious Life, also denied it was one of its clinics that is about to close.
Members of the Abort67 protest group have denied the claims they harass women entering abortion clinics and say they are a "peaceful presence".
Andy Stephenson, founder of Abort67, said: "The reason the abortion lobby is fabricating these allegations is because there are no facts that serve them well. They want us gone because we are hurting their business plan to expand and normalise abortion by planting their services into GP surgeries.
"It is an attempt to mislead the public and the authorities as to what is going on outside abortion centres in much the same way that they mislead and exploit their customers as to what goes on inside the abortion centres.
"What should matter here are the facts. There reason that there are no arrests for the alleged criminal activity is that the alleged criminal activity simply isn't happening. The police are watching us. But who is watching BPAS?"