Protesters in Thailand Blockade Roads in Bangkok 'Shutdown' [VIDEO]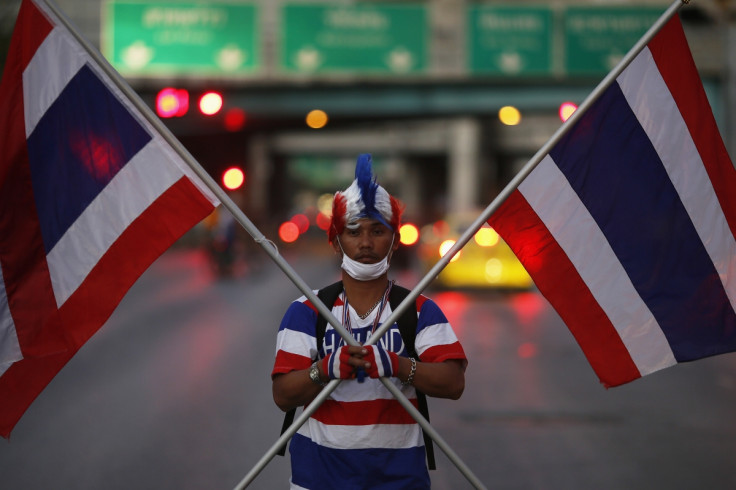 Former deputy prime minister Suthep Thaugsuban will lead thousands of anti-government protesters as they bid to close down the city of Bangkok on Monday.
The rally at the start of the week at seven sites across the city could bring traffic to a standstill on 16 major roads and force 800,000 commuters to find alternative routes to work, according to local media.
"It will clearly cause big traffic jams and massive annoyance to people. People who want to drive into work will have to take public transport. But I'm not sure how it's going to close down the city because they're not closing down public transportation," Timothy Huxley, executive director of the International Institute for Strategic Studies in Singapore told the Phuket News.
"If you're really going to try and close off a city, you close off a city by shutting down the electricity and water."
The effectiveness of the shutdown was also called into question by General Ekkachai, of King Prajadhipok's Institute. He said shutting down Bangkok could have a negative impact on Suthep and his supporters.
''Bangkokians, especially business owners, may lose a lot of money during the shutdown. And most of the PDRC [People's Democratic Reform Committee] supporters are the elite, a long-term shutdown will do more harm to them.''
"The army is fighting tooth and nail from intervening and rolling out the tanks," said political scientist Thitinan Pongsudhirak in a Guardian report. "So short of a direct army intervention, something is likely to give in the coming days, because the deadlock will intensify and become unbearable, untenable."
The opposition has been campaigning to overthrow Prime Minister Yingluck Shinawatra since last November.
At least eight people have been killed so far in the latest political unrest, with the US embassy in Bangkok issuing a statement to citizens recommending that they stock at least one week's supply of cash and two weeks' worth of food, water and medicine.
Army chief Gen Prayuth Chan-Ocha called for calm, saying: "I want to urge all sides and everybody, please don't clash and fight. We're all Thais. We can think differently but we cannot kill each other."
Watch the video of over 200,000 anti-government protestors taking to the streets of Bangkok
© Copyright IBTimes 2023. All rights reserved.