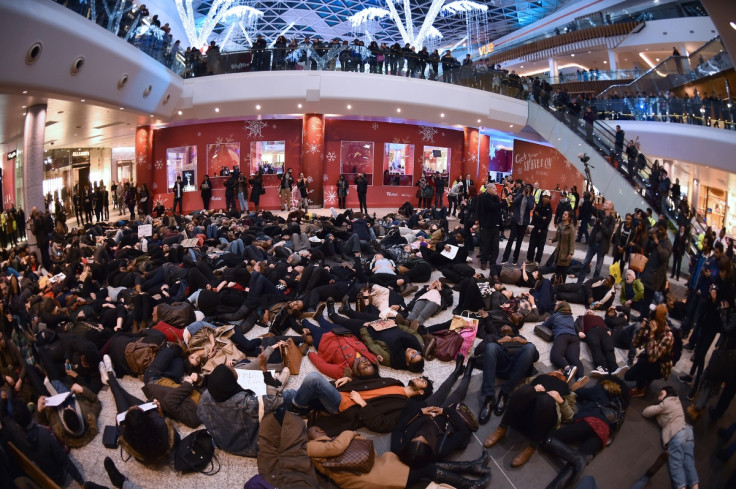 Protestors held a mass "die-in" at the Westfield shopping centre in Shepherds Bush this evening. (10 December)
The protest was staged in solidarity with Eric Garner, an unarmed black man who died after he was held in a chokehold by a white police officer in New York City.
According to Channel 4 News, the protest was organised by campaign group London Black Revs. The organisation staged a similar protest earlier this month outside the US Embassy in London, in protest at the grand jury decision that the police officer would not face charges.
Parts of the shopping centre came to a standstill as around 2000 demonstrators lay on the ground to "play dead," as they demanded an investigation into the death of Mr Garner.
Others held placards bearing Mr. Garner's final words: "I can't breathe." Several shops closed their doors during the protest, while security guards closed off some of the entrances and exits.
Police were in attendance at the west London site, where many passing Christmas shoppers reportedly joined in the protest.
Images of the protest were posted on Twitter. A statement on the Facebook page of the London Black Revs said: "We would like to state that this is a non violent demonstration and we will be joined by international media broadcasting our die-in back to the screens of black Americans in the USA. We need to make our voices loud and heard."
Londoners previously took to the capital's streets in protest in November. Demonstrators brought Oxford Street to a standstill as they showed their support for the American city of Ferguson, after a police officer shot and killed black teenager Michael Brown.