Around 200 protesters angry over the Eric Garner grand jury decision held a demonstration in front of the Barclays Center in New York where the Duke and Duchess of Cambridge attended a basketball game.
Activists staged a 'die in' - lying on the pavement outside the Brooklyn stadium where the Cleveland Cavaliers played against the Brooklyn Nets.
Some wore T-shirts with the words "I Can't Breathe", which Garner shouted repeatedly to police as he was placed in an alleged chokehold after being arrested for selling cigarettes in Staten Island on 17 July. It is the sixth night of protests since the court acquitted NYPD officer Daniel Pantaleo.
The demonstrators had hoped the Royal couple would come outside and greet them to support their cause.
Protester Katrina Pecorella told radio station, WCBS 880: "If they could come out for this, like so many athletes have over this past week, using that platform to support a good cause can always be helpful to what we're doing."
Meanwhile Prince William and Kate caused a stir with the crowds as they attended the game.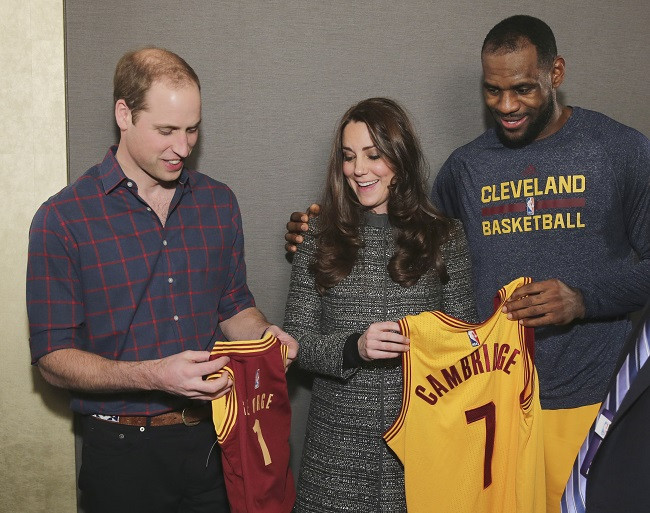 LeBron James, who wore an 'I Can't Breathe' shirt during the pre-game warm-up, presented William and Kate with Cavaliers jerseys after their 110-88 victory, one marked with Cambridge and the other having the name of their son George.
"I've had people from all across the board as far as stature, but the President of the United States, that was pretty huge," James gushed. "To have those two, to say they were travelling here and one of the things that they wanted to do was see me play, it's a pretty big deal in my household."
There was banter between James and Prince during the game, when the basketball star asked the Prince what size shoe he wore, to which the Royal replied: "Half the size of yours". Kate was then seen giggling as her husband pointed at the sportsman's large feet.
The couple also met pop royalty Jay Z and Beyonce during the game's interval. An eyewitness told People magazine Jay Z wished Will and Kate: "Merry Christmas"
The royals attended the basketball game to launch a new collaboration between the Royal Foundation, United for Wildlife and the NBA.