Push Trump off a cliff over and over again in this strangely cathartic desktop game
Parody game lets you guide the US President off ledges and into the jaws of a T-rex.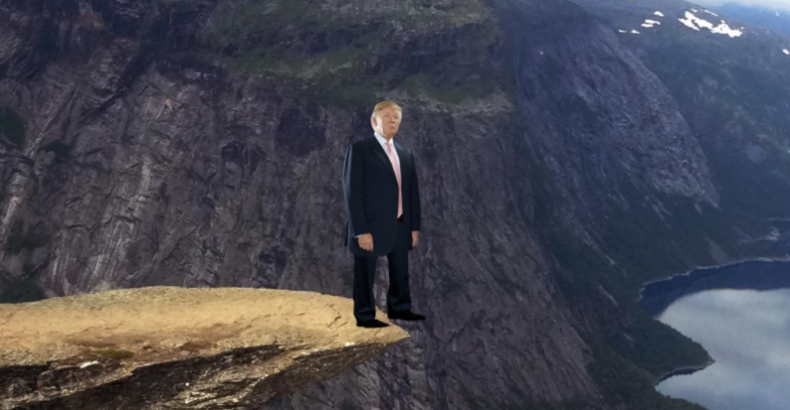 US president Donald Trump isn't everyone's cup of tea right now, with plenty calling for the former business mogul to be impeached, or at least punished in some way after appearing reluctant to denounce white nationalists in the wake of a violent, vehicular attack in Charlottesville, Virginia, which led to the death of a peaceful protester and left several others injured.
While said punishment may not come in the real world, you can now revel in a more gleefully sadistic brand of justice by repeatedly pushing the 45th President of the United States off of a cliff in a silly desktop game.
Playing on Trump's repeated "Make America Great Again" promises, Push Trump Off A Cliff Again! allows players to pick a suitable backdrop and force a virtual Commander-in-Chief to dawdle towards, and eventually fall off, a sheer rock face.
Other options include flinging Trump into a fiery volcano, dropping him into an open manhole in the middle of a street, or walking Twitter's biggest loudmouth into the jaws of a towering Tyrannosaurus rex.
The game utilises simplistic keyboard controls, or touch sensitive buttons on a tablet or phone, and features brief voice clips from Trump himself. It also counts just how many digital Trumps have bit the dust, with the total currently standing at almost 7 million.
Push Trump Off A Cliff Again! is the brainchild of TV and comics writer Justin Hook, who also created a Twitter bot that "attempts (poorly) to tweet the opposite of whatever @realDonaldTrump says."
You can try the oddly theraputic game out for yourself here.