Train tickets at a cut-price cost are being sold online and snapped up by rail users looking to bag a bargain or swerve incoming fare price hikes. However, attempting to save cash by purchasing the illicit tickets may find rail users on the end of an even bigger penalty.
An investigation by The Sun found that hundreds of tickets offering huge discounts on travel were being sold on the likes of eBay, Facebook Marketplace, and Gumtree. The tickets were either unused season passes, unwanted travel tickets or simply forged.
The idea behind the scheme is that rail travellers who have bought a ticket and no longer need it can recoup some money, while buyers would be able to make large savings by not having to buy their own.
For instance, a commuter who has bought a weekly pass but was unable to fully use it due to unseen circumstances would not lose out on as much money if they sold it on.
A simple search for train tickets on eBay resulted in a number of heavily discounted unwanted tickets including a return fare from Manchester to London going for just £30 – significantly less than the £83.90 original value.
Other listings seen on Facebook Marketplace included half-price travel from London to Leeds, as well as reduced first-class tickets on Virgin Trains.
The report discovered one website called TransferTravel.com dedicated to helping consumers sell-on their unwanted tickets. IBTimes UK found numerous tickets at prices well-beyond half price and even discounted Eurostar travel that had been booked by an individual but couldn't be used.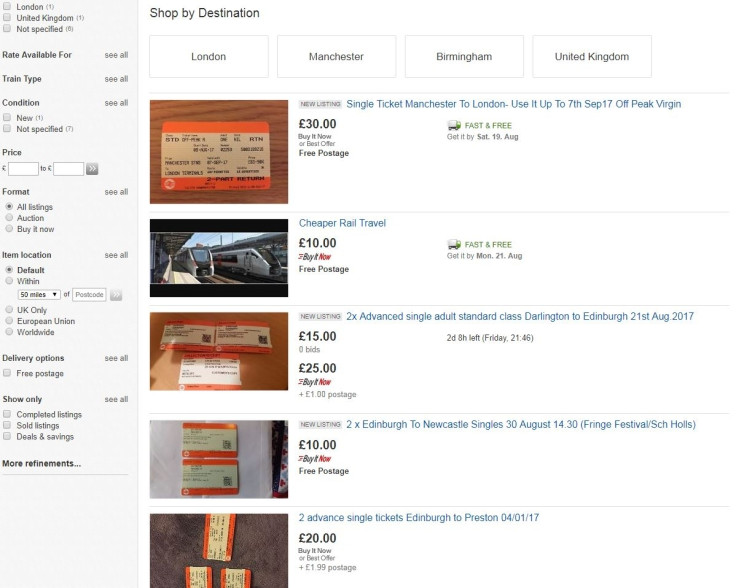 Although the description explains the ticket has another person's name on it, buyers are told they could get their money back if their attempt to slip past the check is unsuccessful.
The Sun reports some listings had been removed, however a quick check found that many more were still available to purchase.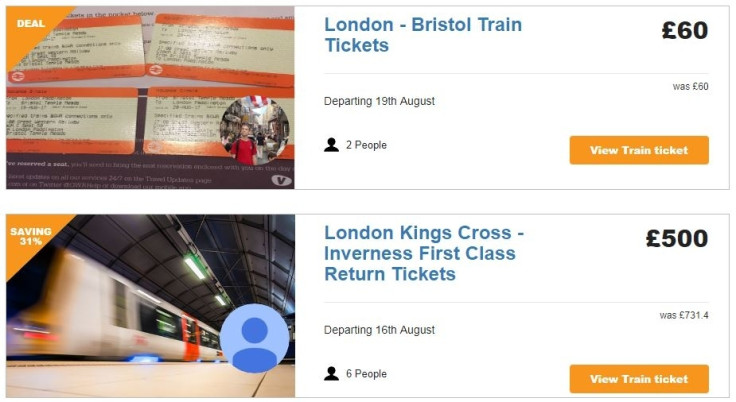 While the appeal of a low cost ticket might seem tempting rules by rail companies strictly prohibit tickets to be re-sold or transferred. Those caught doing so could face fines of up to £1000 or even prosecution.
Consumers caught with a ticket that's not in their name may also face the penalty of having to pay twice the single fare to the next station, leaving them worse off than had they paid for their own ticket.
Fake rail tickets that can be bought for a fraction of the cost of a real ticket have been found to be sold on the dark web as forgery gangs make it simple for consumers to buy using bitcoin payments.
The BBC conducted an investigation whereby journalists bought the tickets - they were printed on the same paper as National Rail tickets with the same font but not a working magnetic strip on the back. As ticket barriers don't work faultlessly with paper tickets, the journalists were able to pass through by simply showing the ticket to rail staff who didn't notice it was a forgery.
However, a commuter who attempted to use a fake first class train ticket in 2015 was caught and ordered to pay £17,000 or the option of a year in jail.
How to get a refund on a train ticket
Anyone who has a ticket they want to receive a refund on might be lucky if they check. National Rail states that if a train is cancelled or delayed and you choose not to travel you are entitled to a full refund. While other fares such as open tickets can be refunded for a £10 admin fee, those who purchase an advance fare cannot claim any money back.
A number of UK rail operators including Virgin Trains' East and West Coast services are trialling new ways passengers can purchase tickets to make it easier to buy cheaper fares. Consumers who take long distance journeys have often found splitting tickets can result in cheaper fares, so operators are introducing single-leg fares as opposed to the full fare so they can see what is the most cost-effective option.
As commuters to London have been suffering from the crippling effects of an upgrade to London Waterloo, which has closed half of its platforms, as well as receiving the news of a 3.6% rise in rail fares from January 2018 train users are highly advised not to purchase illicit tickets.