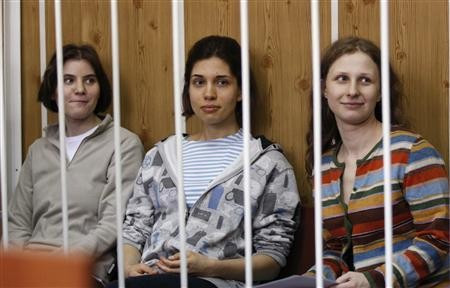 A Russian court has ruled that three members of an all-girl punk band will remain in custody until January after singing an anti-Putin song in Moscow's main Orthodox church.
Nadezhda Tolokonnikova, Yekaterina Samutsevich and Maria Alekhina, members of the group Pussy Riot, will be kept in pre-trial detention for another six months. They have already been held for five.
The trio are charged with hooliganism for performing their song Mother Mary, Throw Putin Out at the Christ the Savior Cathedral, the biggest church in Moscow.
They face jail sentences of up to seven years if found guilty.
Defence lawyer Mark Feigin told reporters outside the court where the trial date was set: "Today's decision only proves again that our role as defendants here is a pure formality," Reuters reported.
Judicial reprisal
"There is a lot of evidence that the judge will disregard justice in favour of a pre-set instructions on how to rule, which have been handed down by the authorities. They want to find them guilty - to punish them with real jail time.
"It is not a process but a judicial reprisal."
Their church performance was uploaded to YouTube.
The church said the women deserve to be prosecuted for their "blasphemous" performance.
The band's "punk prayer" took place two weeks before March's presidential vote. Putin won a third presidential term despite a wave of protests against his rule.
More than 100 of Russia's best-known actors, directors and musicians called for the release of the band members in an open letter, saying they presented no "real danger" to society.
Attorneys for the band members argued that they should be released because they have young children.