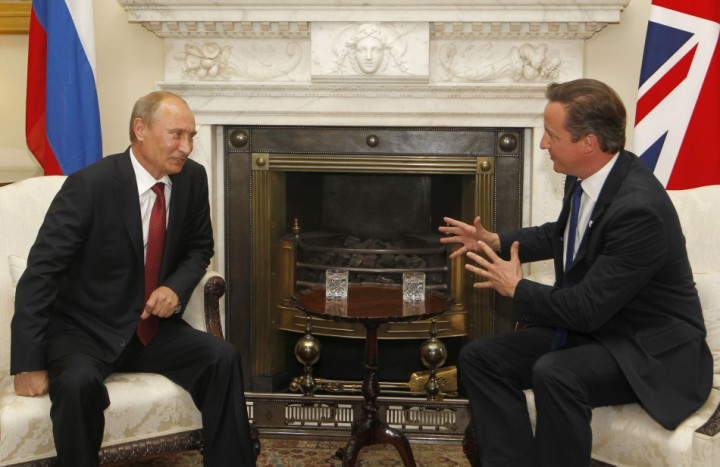 UK Prime Minister David Cameron is to meet Russian president Vladimir Putin in London on Sunday 16 June, with the two leaders deadlocked in their positions on the deepening conflict in Syria.
The talks will be held ahead of the G8 meeting of some of the world's richest nations in Northern Ireland.
Russia supports the regime of Syrian president Bashar al-Assad, and disputes claims from the UK, US and France that the Syrian government has used chemical weapons in the war with rebel factions.
The US last week announced that Syria had crossed the "red line" in using chemical weapons, and said it would provide arms to the Syrian opposition, but the UK has stopped short of adding its support.
Putin's Russia has reportedly promised to provide the Assad government with air-defence systems.
Observers believe that that the talks today hold little promise of serious progress on the Syria issue, but that Cameron may choose to focus on areas where the two countries agree, such as the need for a negotiated path out of conflict.
Britain's former ambassador to Russia, Sir Andrew Wood, told BBC Radio 5 live the meeting was still "important for President Putin to hear things he doesn't want to hear".
"I think the most he can get out of it is the hope that the Russian president will at least understand why the British and many of their Western allies think the way they do," he added.
Cameron is also to meet president Barack Obama today ahead of the G8 meeting.
Should Cameron decide to push for the UK to help the US arm rebels he would almost certainly face obstacles in parliament, with MPs from all three parties having expressed concern that weapons from the west could fall into the hands of al-Qaida elements in the Syrian opposition.
In an interview with Sky News, Cameron said: ""If we don't work with those elements of the Syrian opposition, then we can't be surprised if the only elements of the Syrian opposition that are getting, that are actually making any progress in Syria, are the ones that we don't approve of."
Yesterday, anti-capitalist protesters took to the streets of Belfast ahead of the G8, which is being held in in Loch Erne, County Fermanagh, on Monday and Tuesday.
Syria is likely to feature prominently in the discussions between the member nations: Canada, France, Germany, Italy, Japan, Russia, the US and the UK.