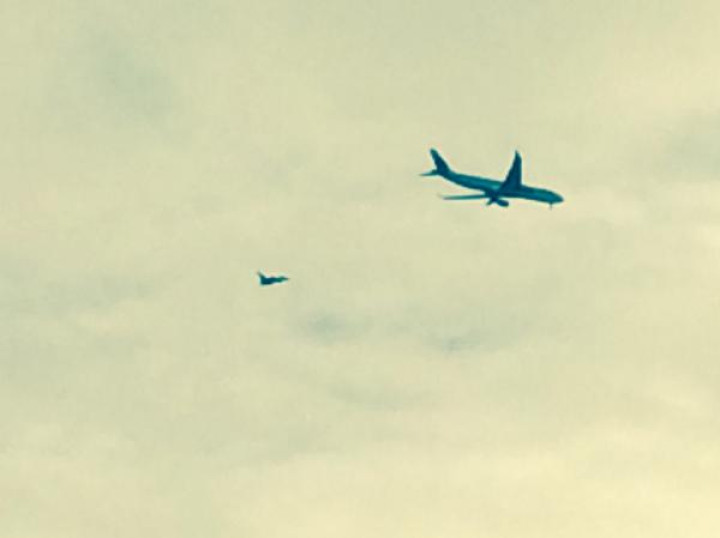 A Qatar Airways flight has landed at Manchester Airport escorted by a fighter jet.
The plane, believed to be Qatar Airways Flight QR023 from Doha, was escorted by an RAF Typhoon towards the airport before landing safely.
The plane was transported to the airport because of a "possible device" on board the plane. All flights in and out of Manchester Airport have been suspended.
Photographs of the plane flying above Manchester were uploaded onto social media.
Chief supt John O'Hare, of Greater Manchester Police, said: "An incoming plane has been escorted into the airport by the Royal Air Force as a result of information received by the pilot about a possible device on board.
"We don't know how genuine this threat is but it is absolutely vital we deal with the situation as a full emergency.
"As a result people will see the police and other agencies at the airport and on the airfield.
"At this time I would urge them not to be alarmed. Our response will be as comprehensive as it is proportionate with the safety of those on board and in and around the airport our paramount concern."
Flights going in and out of Manchester Airport were temporarily suspended during the incident, but a spokesperson confirmed it is now "back to normal".
A GMP spokesperson added: "The plane has been moved to allow specialist officers who are dealing with the incident to board."
An RAF spokesperson said: "We can confirm that Typhoon aircraft were launched from RAF Coningsby in their quick reaction alert role this afternoon to investigate a civilian aircraft whose pilot had requested assistance.
"The aircraft was escorted to Manchester where it landed safely. This incident is now being handled by the civilian authorities."