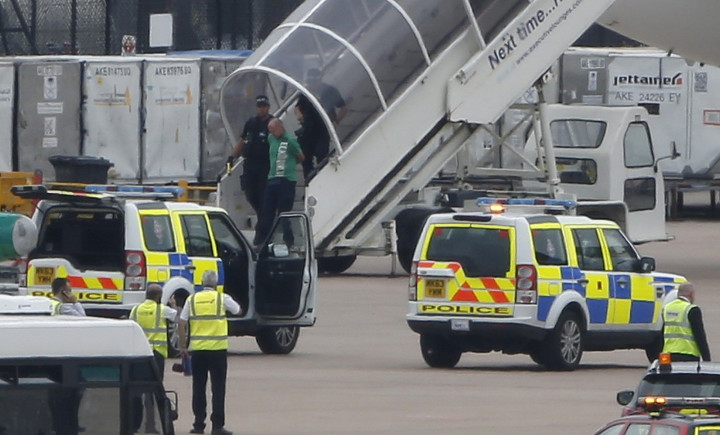 Armed police have detained a man on board the Qatar Airlines flight which was escorted into Manchester Airport by a fighter jet following a threat over a "possible device".
Qatar Airways flight QR23 from Doha, carrying 269 passengers and 13 Qatar Aiways crew, was escorted into the airport by a Typhoon aircraft launched from RAF Coningsby, amid fears there was a bomb on board.
The man arrested allegedly passed a letter to a member of the cabin crew claiming there was a explosive device on board. He was later arrested on suspicion of making a hoax bomb threat and is currently being held in custody.
Greater Manchester Police said they treated the incident as a "full emergency". All flights going in and out of the busy airport were temporarily suspended during the incident, but a GMP spokesperson said it is now "business as usual".
A passenger on board the flight was escorted off the plane by armed police after it safely landed at the airport.
The remaining passengers were later allowed off the plane.
GMP Chief supt John O'Hare said: "Our response will be as comprehensive as it is proportionate with the safety of those on board and in and around the airport our paramount concern."
A Qatar Airways spokesperson said: "Qatar Airways can confirm that flight QR23 from Doha to Manchester, an Airbus A330-300, landed safely at Manchester Airport ahead of its scheduled arrival time of 13:15.
"There were 269 passengers and 13 Qatar Airways crew on board. The crew onboard had received a threat about a possible device on board and Qatar Airways immediately took all the necessary precautions to alert British authorities.
"The crew is now fully assisting police at the airport with their inquiries. The safety and well-being of our passengers and crew is our top priority."
A Mancheste Airport spokesperson added: "Flight QR23 from Doha to Manchester landed safely this afternoon after the crew on board had received a threat during the flight.
"Runway operations were temporarily suspended at Manchester while the incident was dealt with and satisfactorily resolved by the authorities.
"The airport reopened after a 25-minute runway closure."