Qatar's sovereign wealth fund and the owner of the Miami Dolphins, who are together looking to buy Formula One from Bernie Ecclestone and CVC Partners, could free the sport from its "medieval governance" regime, it has been claimed.
Under the terms of the proposed $8bn (£5bn, €7bn) deal, it has been reported that Ecclestone, who is synonymous with the brand, will sell his 5% stake in the business but will remain at its helm to oversee a push into the US and China.
CVC has been gradually selling down its stake in the business, which stands at 35%, and looks likely to reap around five times its original 2005 investment, making it one of the most successful private equity deals in history.
CVC is right to sell at this time because F1 is in decline due to the way its revenue is distributed among only its top participants, according to Dr Paolo Aversa, a researcher in Formula One at London's Cass Business School.
He told IBTimes UK: "F1 is a futuristic sport with medieval governance. That is the great paradox of F1. We need to see a Renaissance."
Aversa said it was potentially good news to have US interest in the sport in the form of RSE Ventures, founded by sports tycoon Stephen Ross, who is the owner of US gridiron giants the Miami Dolphins.
In the US, major sports involved in big budget spending tend to have business models that allow even small teams to remain in the competition and to compete at the top level. This is better for fans; the current model is "kind of boring", said Aversa.
Sustainability issues over F1
In addition, there are questions over the sustainability of F1's current model. On average, one company goes under every year (which corresponds to around 8% of firms, given such a small population of teams) and even the successful ones struggle to break even.
"We know the team on top does better in terms of more TV and marketing and all sort of ways, without the sport giving them more money,' said Aversa.
He said the costs of F1 are skyrocketing while becoming less entertaining. For instance, this is the first year there has been no F1 in Germany, which has an enormous fan pool. The reasons for this were commercial, with the track owner unable to pay the required fees.
Meanwhile, Ecclestone lords it over his iconic world of VIP paddocks. "Bernie's bus" is a grey mobile home, which is the epicenter of any F1 contest.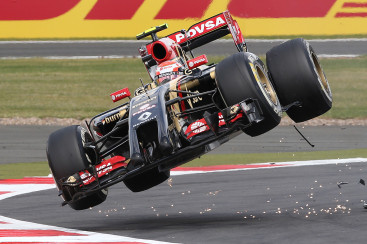 As far as CVC is concerned, Aversa said the firm's investment had been good for CVC. He said: "They have given up on governance of the sport – they didn't have a major say in the rights of the sport – it was not positive or negative."
His equivocal opinion of CVC is mild in comparison to that of others involved in the sport. Bob Fernley, the deputy chief of Force India's Formula One team, told the Guardian that CVC was the "worst thing that had happened to F1".
But this could all be about to change. Aversa believes the new bidders, if successful, will open the sport up to new audiences and generally make it more spectacular.
Ecclestone as CEO has always been against this type of innovation and opportunity, said Aversa. He added: "I'm not sure what the specific goals of Qatar and partners are – if it's financial or what the strategic thinking behind it is. There will always be a willingness to pay more to bring the sport to places like the United Arab Emirates.
"There must be a balance to the innovation, so as not to damage the roots of the sport. You can't imagine F1 without Ferrari, but neither could you imagine it without Monza."
Bernie Ecclestone
Ecclestone's talismanic governance of F1 has appeared to glide from one controversy to the next, with allegations of bribery and tax avoidance, not to mention some very strange comments about women and their relation to domestic appliances.
Grand Prix racing went global in 1950s under the inaugural Formula One world championship spread over a number of countries, from Britain to France and the US, and from there accelerated from gentlemen racers' pastime to professional sport in the 1970s. At this point, former team owner Ecclestone steered its commercial explosion in the 1980s.
Ecclestone's Formula One Management Limited (FOM) has passionately maintained the exclusivity of the F1 brand by carefully selecting the companies and initiatives associated with it.
The bidders
On the Qatari side, any potential deal will be done through Qatar Sports Investments, a subsidiary of sovereign wealth fund Qatar Investment Authority (QIA). QIA, effectively controlled by the country's royal family, is no stranger to high-profile investments. Its vast portfolio of holdings includes Volkswagen, Tiffany & Co and LVMH.
In the UK (specifically London), it counts Harrods, the Shard skyscraper, the Olympic Village and One Hyde Park among its vast empire. It also holds a stake in Sainsbury's and injected cash into Barclays in 2008.
In total, it has more than $250bn worth of assets under management, according to some estimates.
The GMB Union has spoken out about QIA's investments in the UK, calling into question its tax arrangements and its lack of transparency. Domiciled in Jersey, F1 has strong links to Britain through Ecclestone, despite defining itself as a global brand.
In terms of sport, the Qataris own French footballing giant Paris Saint-Germain and has the name of its foundation emblazoned on the shirt of Spanish champions Barcelona. And then there is, of course, the 2022 World Cup.
The potential acquisition of a stake in F1 seems like a logical extension seen in this sporting context.
Stephen Ross
Ross is a 75-year-old property tycoon and philanthropist, and is the principle owner of the Miami Dolphins and Sun Life Stadium.
His property vehicle, The Related Companies is best known for developing the Time Warner Center where he lives and works. According to Forbes, he has a net worth of about $4.8bn.