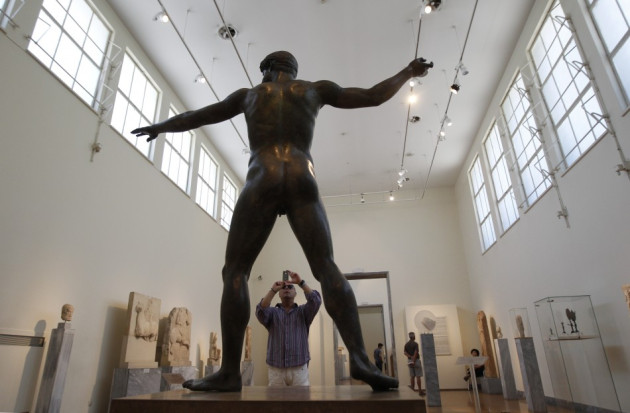 Greece's ministry of culture has pulled two ancient statues from an exhibition in Qatar over a row about nudity.
The classical statues depicting two naked men were part of a consignment of hundreds of masterpieces shipped to the Arabic state in March for an exhibition entitled Olympia: Myth - Cult - Games, sponsored by the Greek government.
Senior officials of the Qatari government reportedly turned up their noses when they spotted amid the 600 ancient exhibits a classical Greek youth and a Roman-era copy of an athlete unclothed.
"Organisers in Qatar wanted to cover up the statues' members with black cloth," a Greek culture ministry source said.
Greece's junior minister for culture, Costas Tzavaras, who had travelled to Qatar for the opening of the exhibition at the Alriwaq space in the capital of Doha,responded angrily to the censorship demand.
He reportedly told museum officials that the statues had to be displayed in their original form or not at all.
"So they were never put on display, they went back into storage and returned," the source said. "The statues have already returned to Greece."
The exhibition is still on in Doha and includes numerous other nudes form Greece's National Archaeological Museum, the Numismatic Museum and the Museum of Olympia. It is not clear why, museum officials were upset by just the two figures at the centre of the row. At the ancient Olympic Games, athletes usually competed nude.
"Explore the sanctuary of Olympia, its role in ancient Greece, find out about Greek culture and the festival held in Olympia and discover the spirit of the Ancient Games," reads the exhibition introduction on the Qatari museum authority website.