An exhibition called Diamonds: A Jubilee Celebration, which celebrates the Queen\'s 60 years on throne is all set to showcase some of the finest diamonds which have been used by British monarchs over the last 200 years.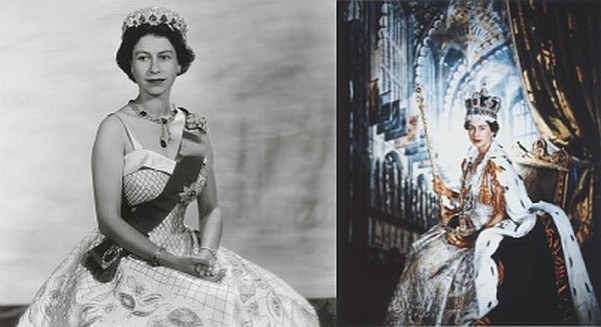 As part of the 2012 visit to the Summer Opening of the State Rooms at Buckingham Palace, the exhibition will feature an unprecedented display of a number of the Queen\'s personal jewels – those inherited by Her Majesty or acquired during her reign - Buckingham Palace announced, as part of the festivities lined up for the Diamond Jubilee weekend.
Some of the most widely recognised diamond jewels of the Queen to be displayed at the exhibition include the Diamond Diadem, which is worn by the Queen on British and Commonwealth stamps, certain banknotes, coins and also on her journey to and from the State Opening of Parliament, ever since the first year of her reign.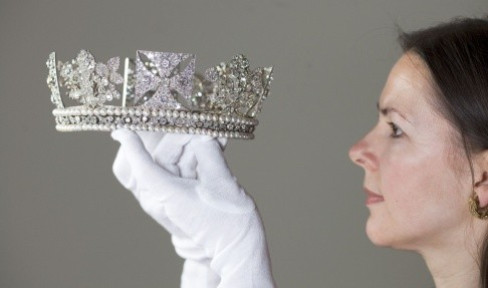 \"Despite its feminine associations, the piece was actually made for the famously extravagant coronation of George IV in 1821,\" The Royal Collection said in a statement, adding, \"The Diadem is set with 1,333 brilliant-cut diamonds, including a four-carat pale yellow brilliant. It consists of a band with two rows of pearls either side of a row of diamonds, above which are diamonds set in the form of a rose, a thistle and two shamrocks – the national emblems of England, Scotland and Ireland.\"
Queen Victoria has also been painted and photographed several times wearing the same Diadem. She inherited the royal jewel in 1837 and the Diadem was passed to Queen Alexandra, Queen Mary and Queen Elizabeth, and then to Her Majesty The Queen.
In addition, the Queen\'s coronation necklace and earrings, which she wore for her crowning ceremony on 2 June, 1953, will also be put on show at the exhibition. Moreover, brooches, a ring, a necklace and a crown having stones cut from the Cullinan Diamond, the largest diamond ever found, also form a part of the exhibition.
Scroll down to get a glimpse of the royal diamond jewelleries of over 200 years that will be exhibited to celebrate the Diamond Jubilee.