Queen Elizabeth to bestow Kate Middleton with special honour in Scotland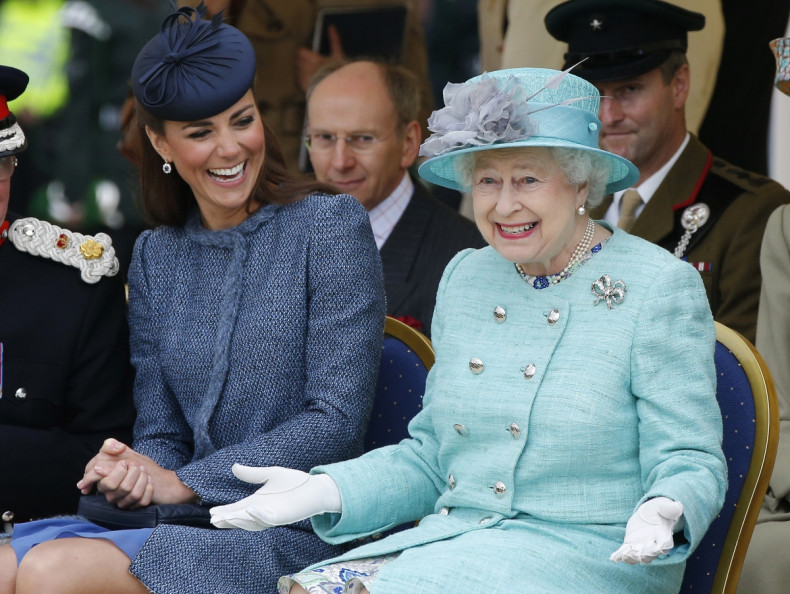 The Queen may be marking becoming the longest reigning monarch in British history but it appears another member of the British royal family will also be celebrating a special honour. Reports suggest the Queen will bestow the prestigious Royal Family Order of Queen Elizabeth II on Kate Middleton, Duchess of Cambridge.
According to Hello! Magazine, the Queen will bestow the honour after Kate and her husband Prince William join her and Prince Philip at Balmoral. The order, which is the highest honour given to a female member of the royal family, is given by the Queen and is a personal memento rather than a state decoration.
Hello! magazine noted that royal watchers will have to wait until Kate attends the state dinner for Chinese President Xi Jinping to see if she is wearing the Order, as it can be worn during state occasions. Buckingham Palace is unlikely to make a formal announcement whether the Queen has bestowed the honour on Kate.
Kate will be joining a number of women in her royal family that have been given the Order by the Queen. Prince William's late mother Diana, Princess of Wales as well as his stepmother, Camilla the Duchess of Cornwall, were both recipients of the order. Sophie Wessex, the wife of Prince Edward, was photographed wearing the order to the wedding of Sweden's Princess Madeleine in 2013, Hello! reported.
The order, which is sewn onto a chartreuse yellow bow and is typically pinned to the recipient's left shoulder, depicts a young Queen Elizabeth II in an evening dress wearing the ribbon and star of the Order of the Garter. The portrait, painted on ivory, is surrounded by diamonds with a Tudor Crown in diamonds and red enamel on top.
As previously reported by IBTimes UK, Kate will return to her royal duties after taking a four-month maternity break after the birth of Princess Charlotte in May. The 33-year-old princess will begin her royal duties with a visit to the Anna Freud Centre in London.