Spain's Queen Letizia hosted an audience for medical representatives at Madrid's Zarzuela Palace on Tuesday (17 October) and lived up to her stylish reputation in a flowing floral dress.
The 45-year-old royal – who shares two daughters with husband King Felipe VI of Spain – looked as resplendent as ever in a £69.99 midi-length Zara dress, which couldn't have been a more perfect choice for the transitional autumn period.
Letizia also showcased a new hairstyle of subtle blonde highlights worn with an outward flick as she accessorised her autumn-ready outfit with burgundy suede court shoes.
The Spanish Queen's appearance today comes after a busy period of engagements since returning from her annual summer break in Mallorca. She was hosting representatives from the Latin American Alliance for Rare Diseases (ALIBER), a network of organisations working to tackle diseases in the region.
Letizia, who was smiling from ear to ear throughout the engagement, also met with members of the Confederacion Nacional de Federaciones y Asocaciones de Familias y Mujeres del Medio Rural (AFAMMER).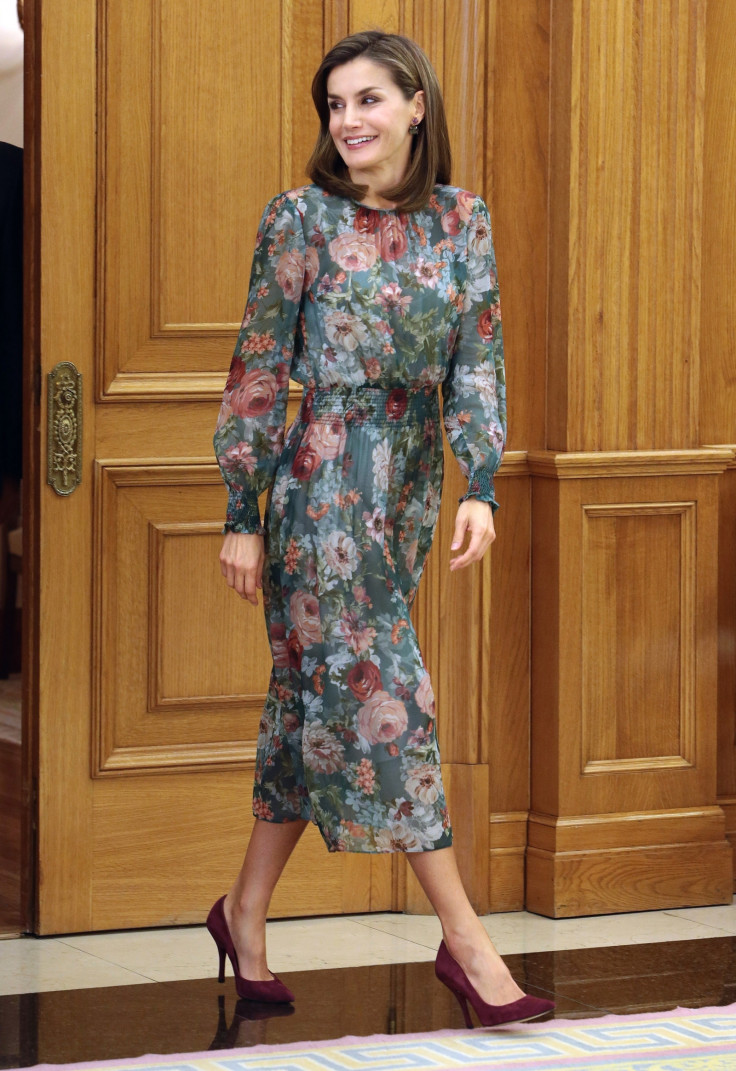 Among her special guests today was ALIBER president Juan Carrion – who discussed their work across countries including Argentina, Brazil and Chile to the royal. The special meeting today was part of the royal's ongoing work with the Spanish Federation of Rare Diseases (FEDER) working to promote awareness.
The former news anchor joined her husband King Felipe and daughters Leonor, 11, and Sofia, 10, to celebrate Spain's National Day last week during political turmoil in the country.
Despite it being a turbulent year for Spain with a string of terrorist attacks and an ongoing independence row, the annual military parade was held as normal.