The Queen will be a royal guest at a huge street party organised by her grandson, Peter Phillips, on Sunday 12 June, as three days of celebrations to mark her 90th are brought to a close. 10,000 people, who are advised to bring their raincoats, due to umbrellas being banned on the site, will be attending the picnic. Organisers are racing against the rain as they complete the final preparations for the party on the Mall in St Jame's Park, London.
BBC weather presenter Carol Kirkwood said that heavy showers were expected this afternoon. She said: "We will see some rain on The Mall when the Patron's Lunch does start.
"Don't take your brolly here if you're coming to the Patron's Lunch ponchos will be provided if it rains, and it looks very much that at some stage it's going to."
"The rain is likely to be in short spells rather than a sustained shower," she added.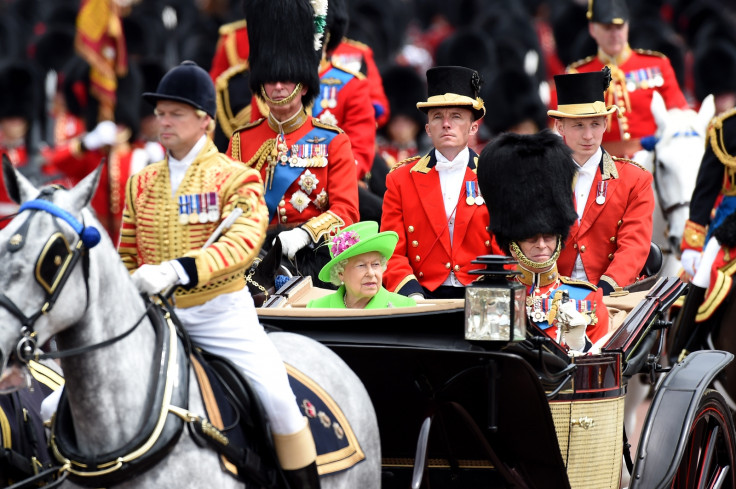 Thousands of rain ponchos were available to protect the crowds from heavy downpours. Security is expected to be tight at the event and guests, who have paid £150 ($213) each to attend, will pass through body scanners when the site opens at 10:00 BST. The Patron's Lunch will recognise the Queen's patronage of more than 600 organisations in the UK and around the Commonwealth.
According to BBC, Ala Lloyd, who is the creative director of the carnival parade, said the eras of the Queen's reign through the decades would be symbolised by different sections of the parade.
"We've got a lovely Commonwealth theme in the 50s with a giant Royal Yacht Britannia, flower power in the 60s, animals and nature in the 70s and crazy neon business going on in the 80s, and embarrassing shorts," she said. She was aiming for themes which were "affectionate and friendly".
The Royal fans took to twitter on Sunday morning, announcing their excitement for the parade, despite the rain.
While the event takes place in London, smaller street parties are being held around the UK. According to a Local Government Association (LGA) poll, over 1,000 streets will close off their roads to share food and fun for the festivities.