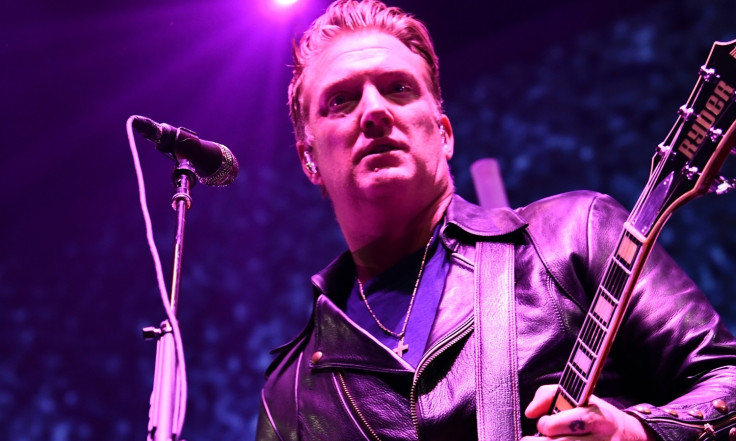 Frontman of rock band Queens of the Stone Age, Josh Homme, has apologised after footage emerged from a recent concert showing him violently kicking a female photographer in the face, sending her to hospital.
Chelsea Lauren was working at the KROQ Acoustic Christmas gig on Saturday (9 December) when the incident occurred during the band's performance. In a video shared to social media (and embedded below), Homme can be seen clearly kicking Lauren's camera back into her face.
"It was obviously very intentional," Lauren told Variety, adding that she is considering pressing charges.
Homme released a video shortly after the story went public, in which he apologised profusely, saying: "I don't have any excuse or reason to justify what I did. I was a total d**k and I'm truly sorry and I hope you're okay."
An earlier written statement had offered some excuse however. A tweet said Homme had "kicked over various lighting and equipment" on stage while "lost in performance", inferring that he mistook Ms Lauren's camera for such a piece of equipment.
The pictures taken by Ms Lauren immediately before the kick show Homme looking down, directly into the camera.
"Josh was coming over and I was pretty excited, I've never actually photographed Queens Of The Stone Age before, I was really looking forward to it," said Lauren, explaining the incident.
"I saw him coming over and I was shooting away. The next thing I know his foot connects with my camera and my camera connects with my face, really hard. He looked straight at me, swung his leg back pretty hard and full-blown kicked me in the face.
"He continued performing, I was startled, I kind of stopped looking at him, I just got down and was holding my face because it hurt so badly."
Variety reports that the 44-year-old musician's behaviour during the concert was erratic. He called the crowd "retards", attacked headliners Muse, saying "F**k Muse", and encouraged the crowd to boo him. It's not known if he was under the influence of drugs or alcohol.
"I've made a lot of mistakes in my life and last night was one of them," Homme continued in the video. "I apologise for that, to you. I want to be a good man and I think last night I definitely failed at that. That means I failed my family and my friends as well.
"I don't ever want them to feel embarrassed or ashamed of being around me or knowing me, so I also apologise to my bandmates, my mum and my dad, my wife, my brother, my kids. I'm going to have to figure out some stuff I think, because rock and roll is a wonderful thing, it's supposed to save and help people, not mess them up."
Queens of the Stone Age released their seventh studio album, Villains, in August, which hit number one in the UK and around the world.