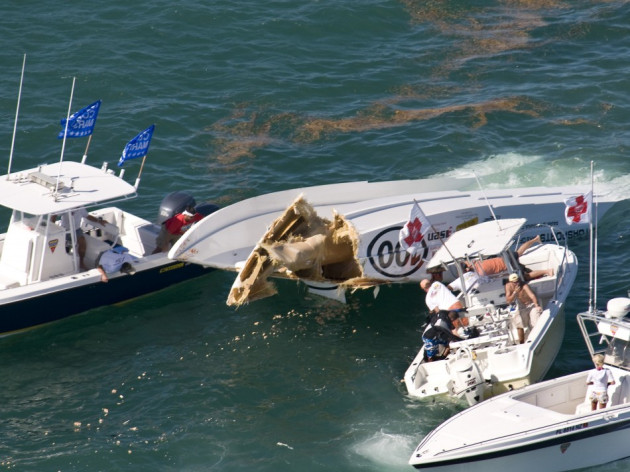 Tributes have poured in for two Missouri offshore powerboat racers who lost their lives during the first of three race days at the Key West World Championship in Florida.
More than 200 racers, officials and fans honoured 74-year-old Robert M. Morgan and 47-year-old Jeffrey Tillman, who died Wednesday when their 46-foot catamaran Big Thunder Marine crashed during a race inside Key West Harbor.
The 46-foot Skater catamaran flipped up into the air and landed on its back, severely damaging the right front hull in the third lap of the seven-lap race.
Both racers were removed alive from the wreckage of the catamaran but died en route to the hospital.
Superboat International President John Carbonell, who witnessed the crash, said rescue divers were dispatched to the accident site within a minute.
"He was going about 130 mph and the boat's propellers were barely in the water," Carbonell said. "The boat apparently caught some air and went bow [front] up; straight into the air, came down and went backwards. This is a very dangerous sport and the racers know that. You push it to the edge and see how far you go."