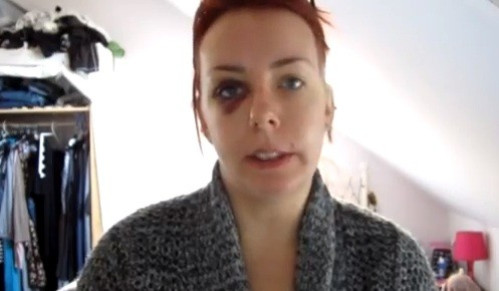 A woman beaten into unconsciousness on a south London street has launched a YouTube video campaign to find her attacker.
Journalist Rachel England, 27, said in the video she is now just a statistic of violent crime after the assault in Clpaham. Police told her they "would be in touch", she said.
The video, entitled Please Help me Find my Attacker, has already been viewed over 8,000 times.
Disappointed with police efforts, England decided to make a video to show the person behind the statistic.
She explained that she, her boyfriend and another friend were walking in a residential area when they were set upon by a stranger. She was punched in the face and mouth before the assailant smashed her head on a car bonnet.
Her boyfriend, Andy Wright, was thrown over the bonnet of a car and hit repeatedly. He has had to have metal rods were inserted into his legs, which were shattered in two places in the assault.
Describing the attacker, England said he was in his late 30s, had a shaved undercut with dark blonde hair, which was slightly longer on top. He was wearing a striped top with a body warmer.
England said: "[These things] don't just happen. Somebody did this to us intentionally and left us lying in the road. There is a psychopath out there who batters girls and guys for s**ts and giggles.
"There is a dangerous person out there who wouldn't think twice about attacking strangers.
"He left me bleeding in the road. What difference does it make whether I had died or not? It doesn't matter to him."
Speaking about the police investigation, England has provided updates via Twitter. She wrote: "Finally got a call from the police. Turns out the extent of our injuries hadn't been recorded, despite my numerous calls re: the situation.
"Update: Am now in contact with a very helpful PO, who says there may be some hope re: a nearby CCTV camera..."