Labour's Rachel Reeves: Government Complacent Over 4.8m UK Workers Earning Below Living Wage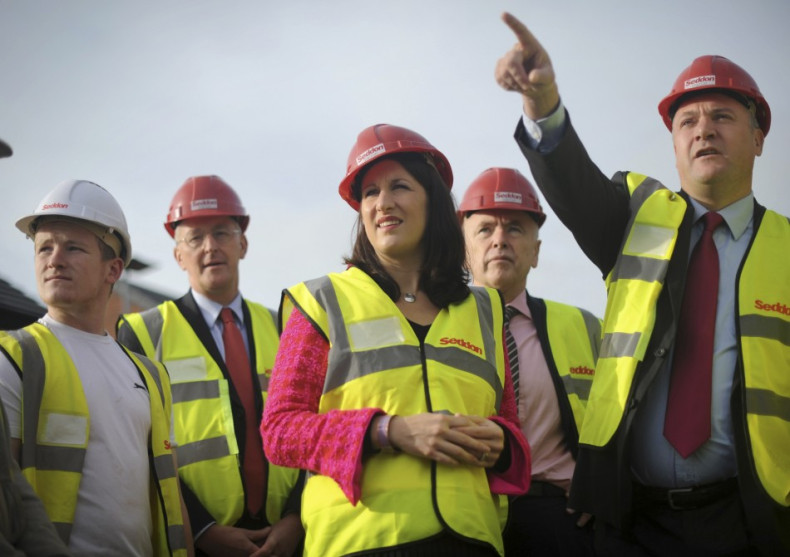 Rachel Reeves has focused Labour's attention on the 4.8 million British workers that do not earn enough to afford a basic standard of living - a number that has risen sharply since the financial crisis - in another sign that the party will use living standards as a battleground ahead of the 2015 general election.
Labour's shadow chief secretary to the Treasury used the Resolution Foundation thinktank's latest report, called Low Pay Britain, to launch an Opposition Day debate in parliament and attack UK government's failure to halt the decline in living standards.
"David Cameron and George Osborne would like us to think that our troubles are over, good times are here again. But most families know that this complacency is misplaced," Reeves said in a speech at the Resolution Foundation.
British families are feeling "the effect of the real falls in wages that are now on average £1,500 down since David Cameron became Prime Minister," she added.
The Resolution Foundation's report found that the labour market is fracturing in Britain between those who earn enough to meet their basic living needs and those who don't.
Categories in the report include those who earn "low pay", defined as workers who earn £7.44 an hour, and those who are in "extreme low pay", earning £5.58 per hour.
Another category known as "the living wage" is £8.30 per hour in the London area and £7.20 per hour in the rest of the UK.
The report finds that since 2009 the number of those workers earning less than a living wage has rocketed from 3.4 million to 4.8 million in April 2012.
Key Findings
One in five employees, which is 21% or just over five million individuals, earned less than the low pay threshold in 2012, according to the report.
Similarly, one in five or 20% earned less than living wage while just 2% were in found to be in extremely low pay.
Those workers at risk of low pay include the young, female workers, part-time and temporary workers and people employed in sectors like retail, care and hospitality.
Of those in extremely low pay, a staggering 83% are 16-20 year olds, while only 200,000 - or 20% - of workers aged 61-65 are low paid, according to the report. This suggests the youngest members of the workforce are being hit most by declining wages.
Furthermore, regions outside London such as Wales, Yorkshire and the Humber, the East Midlands and the West Midlands are disproportionately made up of low paid workers, at a rate of 25% of the workforce.
London is the only place in the UK where more workers earn below living wage, a rate of 16%, than are low paid, a rate of 11%.
One positive aspect of the report is that the UK is not the worst performing country in terms of the proportion of workers on low pay.
Britain comes fifth with 21% of workers earning less than two thirds of median full-time pay, according to OECD Labour Market Statistics cited in the report.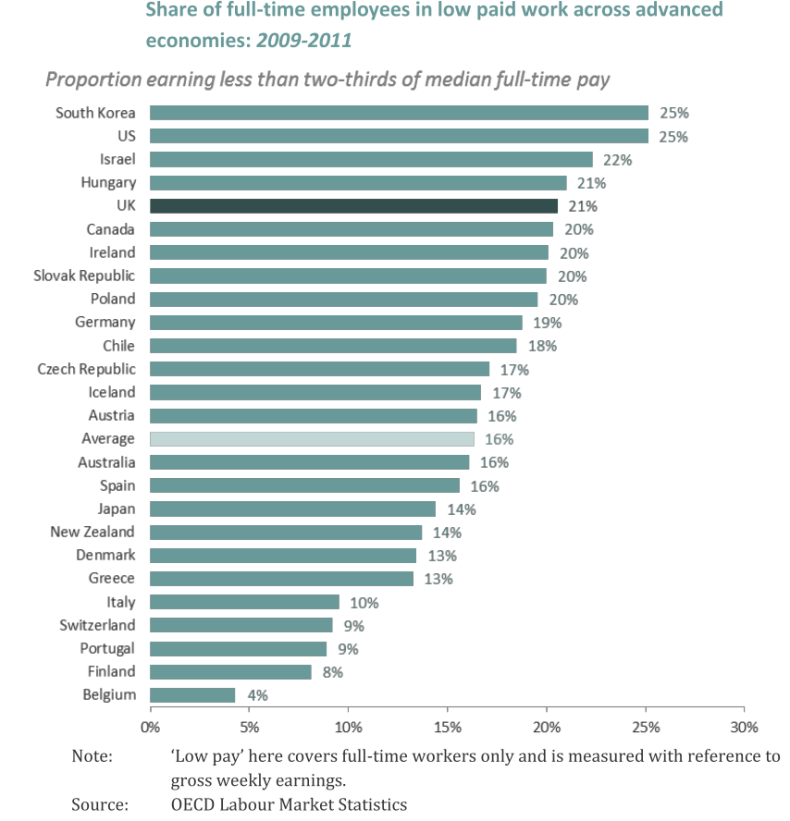 South Korea, the United States, Israel and Hungary all have a higher ranking in terms of the proportion of low paid labour they have as a share of the entire workforce.