Former Barcelona and Arsenal striker Thierry Henry has identified point deductions as the optimal strategy to control racism at football grounds. The Frenchman believes fans will be less likely to racially abuse players if it directly affects their team's success.
"Obviously, I am not in charge of this type of decision," Henry told NBC sports, "That's (point deduction) the only way. Because you would find normally that fans do care about that."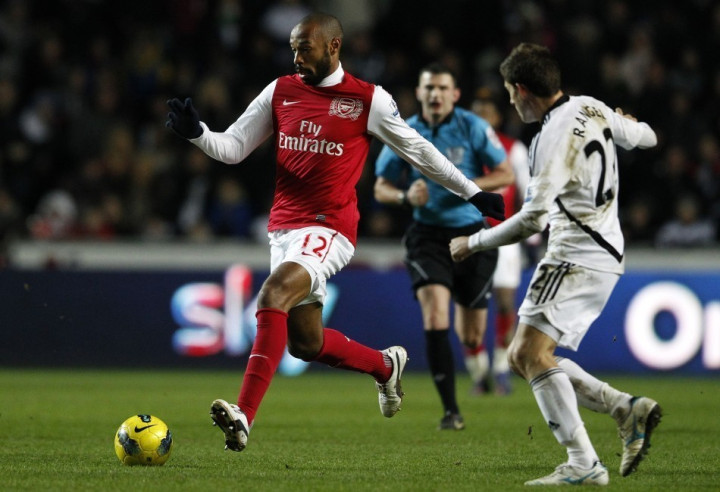 Such legislation would be particularly harmful for clubs challenging for league titles but as Henry points out such high stakes should yield results.
"If you do take points away, that can be pretty massive [for teams] that want to win the title," he continued, "I do think that can be something that can be done."
Henry claims the strength of points deduction as a tactic lies in its ability to directly target fan sentiments.
"I tell you (the fan) that if you don't behave well, your team might lose the game, you might stop," he said, "I'm not saying you will stop, but you might stop. Because at the end of the day, we are all there for the team, for the club."
Racism is a hot topic in football with Inter Milan being fined €15,000 (approximately £13,000) this week for racist chants aimed at Mario Balotelli. The 22-year-old Italian international transferred to AC Milan from Manchester City.
Milan were also involved in another racism case, when midfielder Kevin-Prince Boateng walked off the field after a friendly against Aurora Pro Patria. The action was condemned by FIFA President Sepp Blatter as a misguided solution, sparking a debate as to whether FIFA'S negligence on the issue has allowed racism in football to fester.
Henry believes racism has always been present at football grounds; the difference is now players are taking issue with it.
"It's not that it is happening more, it's more that the players are making people notice it more," he continued, "a lot of the time, a player used to go along with it. Now the players are calling the ref and pointing at the guy and saying that guy is saying something bad."
It is clear that, going forward, there is no place for racism in football. Players will no longer tolerate racist abuse and football's governing bodies need to ensure that the game's credibility is not affected by fan prejudice. Whether point deduction is the right measure is a larger debate but it is certainly a possibility.