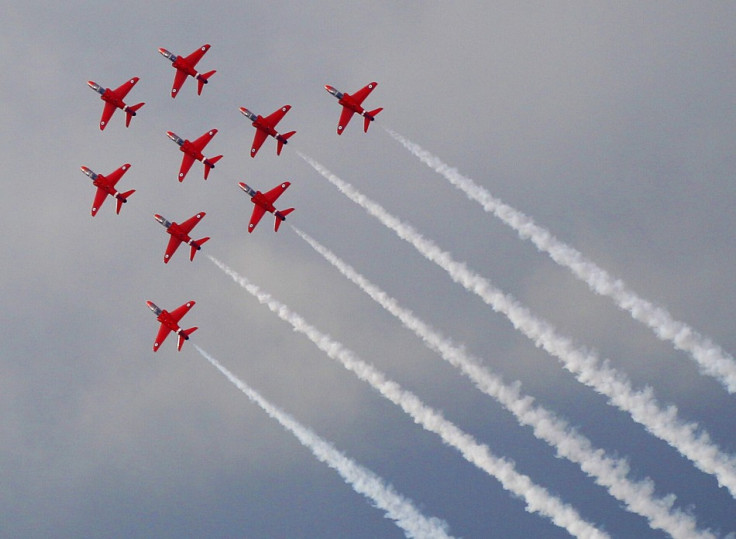 The Telegraph reports that a colleague of the Red Arrows pilot, who died in a fatal air crash on Saturday, was forced to make an emergency landing after a bird struck his plane during an acrobatic display.
Ben Plank had a lucky escape after his plane engines were struck by a bird forcing his Hawk t1 to make an emergency landing in Blackpool on August 9. It is now believed that a bird could have been behind the catastrophic mechanical failure which caused the fatal crash of Flt Lt Egging at the Bournemouth Air Show Saturday.
Flt Lt Egging's grandmother, Doris Egging, said one theory was that he blacked out because of the G-force on his aircraft as he tried to steer it to safety.
She said: "Jon was a hero but he probably didn't eject because he was unable to after being knocked out. I would very much believe he would sacrifice his own life to save others, that's the way he was," reported the Telegraph.
"Jon served in Afghanistan and, by all accounts, had some hairy moments over there, but it was his dream to be a Red Arrow," she continued.
Stuart Briggs, 47, who was at the Blackpool Air Show said: "I saw the plane coming back in a southerly direction towards the airfield," he said.
"It was trailing white smoke which was different to the normal density and going at a much reduced speed. You could actually smell the unburnt fuel as it went past," the Telegraph also reports.
The RAF Red Arrows display team has cancelled appearances at two Devon Regattas following the death of Jon Egging. The Red Arrows were due to fly at the Torbay Royal Regatta on Wednesday and Dartmouth Regatta on Friday but the RAF has grounded the fleet while the Blackpool crash is investigated.
The Metro reports Monday that remains in the field where the plane came down clearly suggest that a 'catastrophic bird strike' had occurred. Flight Lieutenant Egging was pronounced dead at the crash scene near the River Stour, where he was found with his parachute open but not in his ejector seat, according to witnesses.