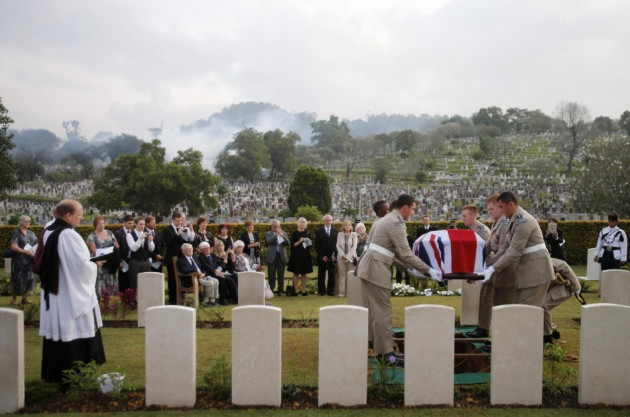 In a solemn ceremony, eight air crash victims of the Royal Air Force Liberator KL654 have been buried at the Cheras Road Commonwealth War Grave Cemetery in Kuala Lumpur, 67 years after they were dead.
The ceremony was conducted by Reverend (Wing Commander) Jonathan Beach of the Royal Armed Forces in the presence of the family and relatives of the victims who came from the UK to witness the burial.
The British airmen were on a supply mission to then called Malaya from the Cocos Islands when their plane crashed due to bad weather on 23 August, 1945.
The crew members were on their last mission before returning to their home country as World War II had ended.
The remains of the victims were recovered by a joint expedition by the UK and Malaysian officials in 2009. The crash site in a dense jungle was originally discovered years ago.
The eight men were Flight Sergeant Jack Blackey, Flying Officer John Trevor Bromfield, Flying Officer William Kenneth Dovey, Flying Officer Edward Donald Mason, Flight Sergeant William Ross, Flight Sergeant Raymond Arthur Towell, Flight Sergeant Arthur Turner and Flight Lieutenant John Selwyn Watts.
"I'm very pleased that it's all come to an end now," Geoffrey Dovey, brother of Flying Officer Kenneth Dovey, who was the navigator for RAF Liberator KL654, told the BBC.
"We can... move on in time but we'll never forget of course. But they've been finally laid to rest which is right and proper."
Red poppies were placed on the single grave where the remains of the eight men were interred.