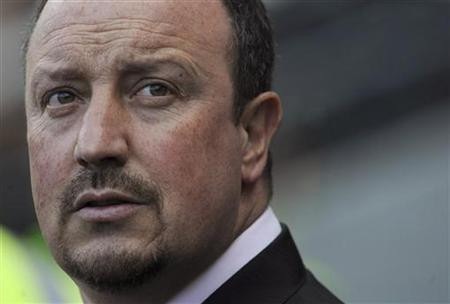 Rafa Benitez says he wants to return to a managerial position in the Barclays Premier League, despite the Spaniard receiving offers to coach elsewhere.
Benitez has been out of work since 2010 when he was sacked from the managerial job at Inter Milan. The former sweeper has some big clubs under his coaching belt, including stints at Valencia and Osasuna, and while he has not worked in almost a year, his ability to get inside opposition managers' heads has become one of his well-known strengths.
And the 51-year-old, who is also famous for his public disagreements with Sir Alex Ferguson when the pair were in charge of Liverpool and Manchester United respectively, says that offers have been on the table for his services, but he is undecided over a destination as yet.
"We have to wait," Benitez said. "I prefer not to say too much but obviously I have some experience and I'm still around in England.
"So I think I have some knowledge of the league and players, and that is good obviously.
"I think the big jobs and options are a challenge for any manager.
"I don't want to say too much because the day after you will see the headlines."
Rumours have speculated that Benitez might be waiting for Kenny Dalglish to slip up at Liverpool and take on the top job at Anfield, but he insisted that he wasn't interested in ousting Dalglish, and wished Liverpool all the best.
And Benitez also insisted that he has already had a concrete offer to coach, hinting that the job of England manager might be a possibility after Fabio Capello's contract runs out.
"At the beginning there was something, now everything is calm," he said when asked what offers were on the table.
"I was watching England and Spain the other day and everybody was asking about other teams but I think now is the time to be calm, wait, and we will see.
"Normally January is a little bit more controversial.
"We have had some offers from different countries, normally big money, but the priority is to stay in the Premier League.
"We don't have the right club or right opportunity right now, so maybe we have to go to another country and show we can stay at the top."
When asked what he thought of Benitez recently, Ferguson replied: "He is jobless and he is not my friend." If Benitez were to be reunited with the Scotsman in the Barclays Premier League, there would no doubt be fireworks between the pair once more.