Rafael Nadal backed to take over GOAT title from Roger Federer after US Open triumph
Nadal won his 16th men's singles Grand Slam title at the 2017 US Open.
Rafael Nadal was delighted after storming to victory in the final of the US Open to pick up his second Grand Slam title of the year – he won the French Open for an unprecedented 10<sup>th time earlier in the year.
The Spaniard won in straight sets against South Africa's Kevin Anderson, who was playing in his first major final in a tournament that saw plenty of upsets. Nadal now has 16 men's singles Grand Slam titles and has strengthened his position at the top of the world rankings after returning to number one ahead of the US Open.
The 31-year-old was among the favourites coming into the last major tournament of the year, with Roger Federer another candidate for the title. Nadal and the Swiss ace have never played each other at Flushing Meadows and were one match away from facing each other, but the latter lost to Juan Martin del Potro in the quarter-finals, who was in turn beaten by the Spaniard in the last four stage of the tournament.
Nadal was delighted to complete the Grand Slam season with a title and admitted that it has been an emotional campaign. It was the Spanish tennis legend's first title on hard court in over three years – the last coming at the Doha Open in 2014.
"Been a great two weeks," Nadal said during his on-court interview, as quoted on the US Open's official site. "Increasing level of tennis, increasing of confidence during that two weeks. Yeah, I have this trophy with me again here in New York. There is no better way to finish the Grand Slam season for me after a very emotional season in all aspects."
Former world number one Jim Courier, meanwhile, believes Nadal has the potential to overtake Federer as the Greatest of all Time (GOAT) after his most recent triumph at Flushing Meadows. The Spaniard now has three fewer than the Swiss star's 19 men's singles Grand Slam titles but has age on his side as he is five years younger than his long-time rival.
The tally could have been closer had Nadal put his 3-1 lead in the fifth set of the Australian Open final to good use, but Federer's superior performance saw him win his 18<sup>th rather than Nadal his 15<sup>th. But Courier has not put it past the Spaniard winning another couple of French Open titles if he remains fit.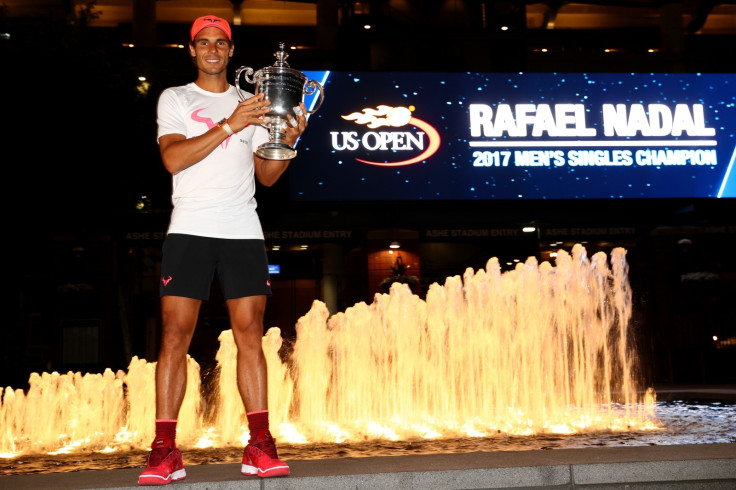 "It could be 18-17 right now and if Nadal stays healthy, he's going to have significantly more opportunities than Federer just because of the age gap," Courier told the Tennis Channel, as quoted by the Metro.
"Who's going to bet against Nadal winning a couple more French Opens if he's in good health? Not me. That's for sure," he explained.
"This is a story that's still ongoing, they're very much in motion.
"One of the big questions for 2018 is which Novak Djokovic shows up. Hopefully he'll be healthy. He could very likely get himself back in the mix as well," the former world number one added about Djokovic, who will return to action in 2018 after ending the current campaign due to injury.
© Copyright IBTimes 2023. All rights reserved.