The wife of a blogger jailed for 10 years and sentenced to 1,000 lashes for insulting Islam says that her husband is being held in terrible conditions inside Saudi Arabia.
Ensaf Haidar told IBTimes UK that her husband Raif Badawi, who was flogged 50 times in January in front of hundreds of people in a Jeddah mosque, said that the food in the prison was bad and the sanitation horrible and that he had sounded sick when she spoke to him Friday.
Haidar spoke to Badawi on Friday just hours before his original sentence was confirmed by a Riyadh court, sentencing him to jail, 950 more lashes and a $266,000 fine for insulting Islam and the Saudi state on his popular blog. He was originally sentenced last May.
"His psychological and mental well-being is very poor, his physical health is also deteriorating [...]. Of course his state is not going to be good," Haidar said from Canada, where she was recently given asylum along with their three children.
"He hasn't told me what's happening to him, he can't tell me anything on the phone, but I know from his voice that he isn't well."
The public flogging of the 31-year-old was postponed after the first round in January on medical grounds, with reports that his scars had not healed enough to endure further lashes. Human Rights Watch believes that his flogging will resume on Friday following the new court decision, and is set to continue every Friday for another 19 weeks.
"Our state right now as a family is upside down, I won't tell you it is perfect, but neither will I say it's catastrophic. Life is going on," Haidar said.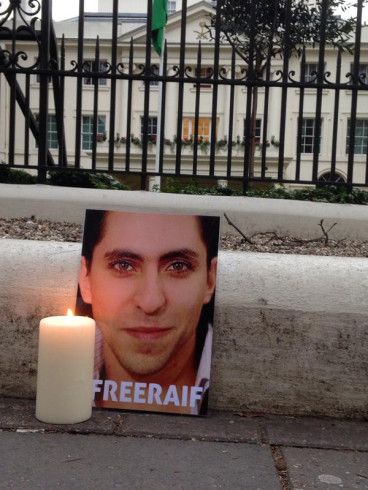 Badawi's case has caused massive controversy and drawn huge international media attention. The internet discussion group which Badawi co-founded encouraged debate around political and religious issues – both extremely taboo subjects in the conservative kingdom.
This, alongside his personal writings landed him in hot water with both the Saudi government and the country's radical clerical establishment, which wields massive power in a country that still adheres to an extreme and archaic form of Wahhabi Islam.
Haidar insists that her husband's writings were innocent, and points out that plenty of other writers make similar comments on social media.
"Raif [...] didn't say or write anything against Islam or religion or the government, on the contrary, his writings are very respectful. I definitely don't think he committed a crime to warrant such uproar," she said.
"Ten years in prison, ten years not being allowed to leave the country and 1,000 lashes: even a terrorist hasn't had this punishment. Name me one terrorist that has been lashed? I've never heard such a thing."
Haidar hopes that eventually the new king Salman bin Abdulaziz will pardon Badawi.
"I have one final word of appeal for King Salman, [Crown Prince Mohammed] Bin Nayef and [Deputy Crown Prince, Mohammed] Bin Salman: Raif is not a terrorist, he is not a criminal. I hope that you grant him pardon," she said.
Badawi's book: 1,000 Lashes: Why I Say What I Think was published in Germany on April 1 and will soon be published in English and Dutch.