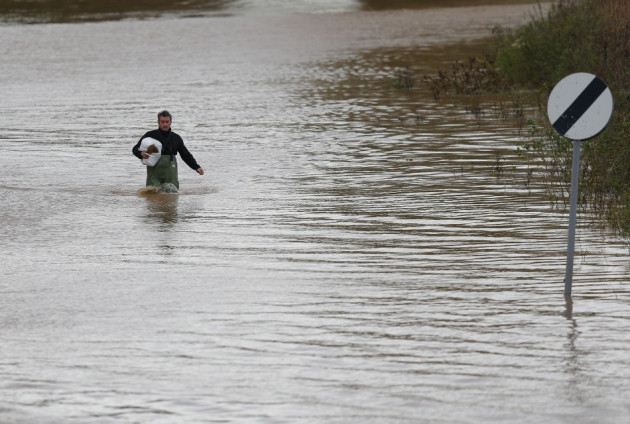 The heavy rain which has affected commuters in southwest England for several days is set to continue over Christmas, bringing more flood warnings and disruptions to rail networks.
CrossCountry, East Midlands Trains, First Great Western and First TransPennine Express services are all expecting major delays over the Christmas period.
The Environment Agency has also issued a severe flood warning for the River Cober at Helston in Cornwall.- meaning there is the potential for loss of life - with more than 130 flood warnings in place for the rest of England and Wales.
There are currently 20 flood warnings in place across Scotland, most of which are in the Tayside area.
In the southwest, trains running between Bristol Parkway and Swindon have been suspended because of flooding. The line betweenLiskeard and Looe is expected to remain closed until 29 December at the earliest, and trains will not run between Exeter St Davids and Taunton until at least 28 December after earlier flooding.
A landslip is affecting journeys between Liverpool and Manchester and there are currently no trains between Par and Newquay.
Network Rail's director of network operations, Robin Gisby, said: "We apologise to passengers who have had their journeys disrupted at this busy time and we are doing all we can to keep things moving.
"However, safety is our priority and where flooding has submerged tracks or damaged structures we cannot allow trains to run.
"Our engineers have been out at vulnerable locations since the rains began and through the night to monitor the situation, and we are doing all we can to help operators get passengers to where they want to get to."
An Environment Agency spokesperson said: "Recent flooding across parts of Devon and Cornwall has affected numerous properties and transport routes. Further rain is likely in southwest England through the next few days bringing a medium flood risk, with further significant disruption from river and surface water flooding possible across Cornwall, Devon and Somerset.
"There is also a medium flood risk from groundwater flooding in parts of Dorset, as levels are rising, and this may affect A roads-there. Elsewhere, across all but the far north of Wales as well as central, southern and northeast England, a low flood risk is maintained, due to some recent flooding incidents, and also due to further rain tonight and on Monday and Tuesday which may also bring more minor disruption, and perhaps significant disruption in some places, as river levels remain high and the ground is saturated."
Andy Page, Met Office chief forecaster, said: "Following a very wet and windy weekend, there is yet more rain expected to spread from the South West during Monday. This will give 10 to 20mm of rain quite widely across parts of England and Wales but southwest England may see in excess of 30mm in places.
"The Met Office has issued severe weather warnings which means that the public should plan ahead to take account of possible travel delays or disruption, especially as they make their way to friends and family for the Christmas period. By thinking ahead the public can be more weather aware and better prepared for severe weather."