Rana Plaza Disaster: Activists Form Human Chain Around Oxford Street's Gap Shop
Activists formed a human chain on London's Oxford Street to mark the first anniversary of the Rana Plaza disaster in Bangladesh and expose the failure of major retail chains to compensate survivors and victims' families.
Campaigners from Labour Behind the Label and War on Want, joined by trade union activists, gathered outside Gap's flagship branch in Oxford Street to commemorate the 1,138 garment workers who died at a clothing factory building just outside Dhaka in Bangladesh exactly one year ago.
Activists were demanding that all brands buying from Rana Plaza pay into a fund set up by the UN's International Labour Organisation (ILO). The target is $40m (£24m) but only $15m has been raised. A number of brands whose clothes were found in the rubble of the factory, including Benetton and Matalan, have not contributed to the fund.
Both companies said they preferred to support alternative assistance programmes for victims.
Walmart, represented in the UK by Asda, has paid $1m compared to more than $7m by Primark.
"We're here to remember the 1,100 victims of Rana Plaza building collapse and make sure those brands and retailers who have been making millions of pounds of profit on the backs of those workers take responsibility for the lives and the safety of the workers," Jeff Powell of War on Want told IBTimes UK.
Gap, which is one of the largest buyers of clothing from Bangladesh, had paid a "paltry sum" to the fund, the Rana Plaza Arrangement, Powell said.
The firm also refused to sign the Bangladesh Accord for Fire and Building Safety, a legally binding mechanism that brings together unions, the Bangladeshi government and 150 retailers to ensure another Rana Plaza disaster does not happen.
The accord, whose signatures include Tesco, Primark, and Zara-owner Inditex, has been co-signed by 10 unions and challenges companies which do not live up to their commitments.
"The accord's main feature are that workers are able to have organisations, workers' representatives, trade unions who can defend their own rights," said Powell. "It also ensures that brands and retailers set up a fund to make the key safety changes - electrical and structural changes."
Gap and Walmart have set up a voluntary plan called the Alliance for Bangladesh Worker Safety which has no union signatories.
"The rival plan set up by Gap and Walmart, a noted union buster, is a real sham," said Powell.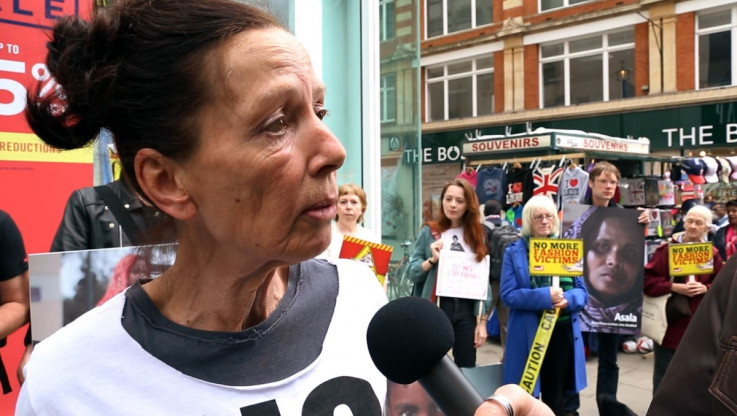 Fashion designer Katharine Hamnett
IBT
Amin Haque, general secretary of the National Garment Workers Federation in Bangladesh, said: "This is their voluntary initiative and we trade union people on the ground know what's the meaning of voluntary initiative.
"All these companies already had their own policy, code of conduct, monitoring system but from Rana Plaza disaster it is very clear that these things don't work on the ground level.
"This is meaningless. We are against it and requesting Walmart and Gap to join the accord."
The accord's 200 inspections led to the closure of eight factories because of structural faults.
Cult fashion designer Katharine Hamnett said that consumers needed to take responsibility for what happened in Rana Plaza to be sure it did not happen again.
"Any of us who bought a shirt or a T-shirt or a garment because it was so cheap also carry a responsibility for supporting this kind of clothing which was effectively made by slave labour," she said.
"Slavery has been abolished in this country in the mid-19th century but is alive and well and living and bad unless we do something about it now."