Don't be fooled by the human chain in Oxford Street today as part of the Rana Plaza disaster anniversary – the West still does not care about the 1,138 workers died at factory in Bangladesh.
Apart from the causing hassle on London's busiest shopping street, the campaigners, which are likely to be mostly made up of rent-a-cause students, have not and will probably not make too much a difference to what's happening in cheap fashion.
We have all been spammed on our social media feeds with signing some poorly cobbled together petition forms and we have pored over the horrific reports and pictures from the disaster but has any of this really made a difference?
Not really.
Am I being too harsh?
Well, the numbers say otherwise.
What We Should Care About
The harsh and unsafe working conditions in Bangladesh's garment factories were highlighted when the collapse of the eight-storey Rana Plaza building on 24 April 2013, killed more than 1,100 people.
Bangladesh is the world's second-largest garments exporter behind China and its factories employ about 3.6 million people.
The sector has suffered numerous fires, including a November 2012 blaze that killed 112 workers.
Following the accidents, authorities in Bangladesh and clothing companies, especially in the US and Europe, have pledged to improve safety standards at the country's factories.
Furthermore, the disaster unveiled the pittance of a salary that the workers get, despite a recent 77% rise in pay for the region's garment workers.
A 77% rise, you say? Don't get too excited.
The government's wage board will only push up the monthly minimum wage for entry-level garment industry workers to 5,300 taka (£41.8, €50.1, $67.4), from 3,000 taka.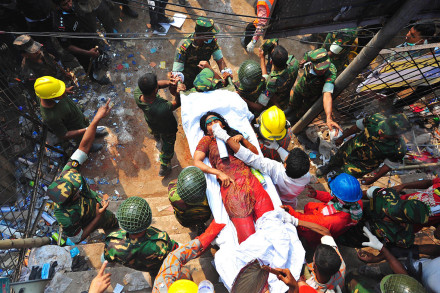 Have Workers' Lives Changed that Much?
We all feel outraged and we all pour pity onto the Bangladeshi workers but do we really hit the sector where it hurts?
No. We don't put our money where our mouths are.
Europe and the US account for 60% and 23% of clothes exports from Bangladesh, respectively and judging by the latest company announcements, our appetite for cheap fashion hasn't diminished.
While campaigners, including Labour Behind the Label, War on Want and Made in Europe, may be able to make a nifty human chain and raise awareness, the public don't seem to be responding with their wallets.
To be fair, the Bangladesh Accord for Fire and Building Safety, which backed by more than 150 brands, has led to the temporary closure of at least eight factories, after more than 200 were inspected.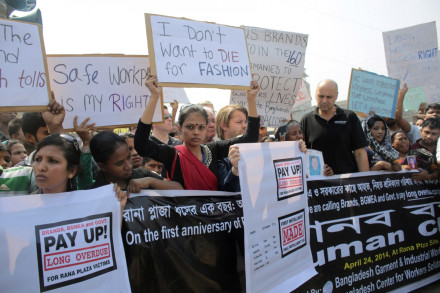 On top of that, companies (not protesters) have donated $15m to the UN's International Labour Organisation (ILO) long-term compensation pot for victims.
This is of course meagre, compared with the hoped-for $40m, but it's a start.
"We urge all the brands that have been working in Bangladesh to contribute to the fund with a considerable sum," said Jyrki Raina, of international union IndustriALL.
"They share a collective responsibility for this profoundly unsustainable production model and its hazards, this model that we are now about to change."
However, for the millions of others who are still working – have their lives changed that radically?
Why We Clearly Don't Care
We care enough to protest but we don't care enough by parting with a little bit more cash to buy clothes.
The momentum in cheap fashion sales reflects this.
One of the most famous UK brand names that used the Rana Plaza factory, Primark, revealed on 23 April that it in the 24 weeks ended 1 March 2014, its operating profit rocketed by 26%.
In fact, Primark's results were so good that its parent company, Associated British Foods (ABF), announced that the bumper sales growth has buoyed up the entire group's balance sheet and offset the weakness in its other units.
ABF shares soared.
However, it should be noted that Primark "promised that it would meet its responsibilities in full and that it would pay long-term compensation to the workers employed by its supplier, New Wave Bottoms, or their dependants."
"Primark has worked diligently with local partners in Bangladesh to establish a rigorous, sustainable approach to compensation and has begun making long-term payments totalling $9m," it said in a statement.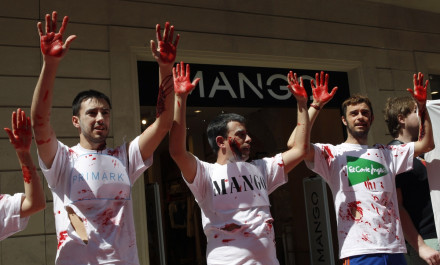 "Primark also paid $2m in short-term aid to the families of all the workers employed at Rana Plaza, most of whom were making clothes for its competitors. It has agreed a further payment of $1m to the Rana Plaza Donors Trust Fund (Trust Fund) chaired by the International Labour Organisation bringing the total that Primark is paying to $12m, of which $7m was provided in last year's results and $5m has been charged in the year to date."
Our appetite for cheap clothing doesn't stop there.
Super discounted online fashion houses are growing in popularity as we still like buying the latest dress for less than a price of a sandwich, or a pair of jeans, for the price of a magazine.
While boohoo.com and Asos.com are not associated with the Rana Plaza factory, they do use cheap labour from emerging markets, so we can buy our clothes for pennies.
In fact, these online cheap fashion retailers are so popular that they both launched IPOs worth hundreds of millions of pounds within the last few months and sales are soaring.
In Asos' latest trading update, overall retail sales jumped 26% year-on-year while international retail sales accounted for 65%.
Boohoo also revealed that for the 10 months to December 2013, sales rose by a whopping 70%.
What's the Solution?
Boycotting cheap fashion that originates from Bangladesh would immediately wreck the livelihoods for millions of factory workers in developing countries.
There will always be a country somewhere that will always offer a cheaper price.
The 'solution' would be trying to balance consumer needs with the absolute paramount improvement in working conditions and pay.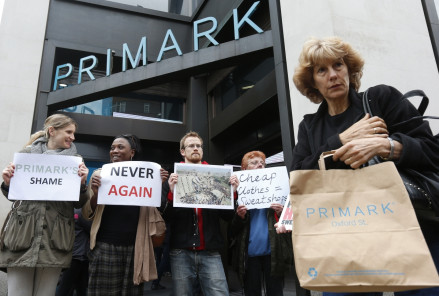 But, as it usually does, it always comes down to margins and how much we, as a Western society, are willing to pay for our goods.
After the 77% pay hike for garment workers, Bangladeshi factory owners revealed that their margins were squeezed, making less profit, and losing orders.
We may think 'oh, woah is them,' but actually that means companies find the goods are not going to be made at a competitive rate and therefore (me and you) will not part with our cash for the latest catwalk knock-off for a higher price.
One of the biggest issues is safety for workers.
There have been some key strides in putting some stronger standards in place but workers being able to report any misgivings or ask for a better working environment will be moot without trade unions.
The Ethical Trading Initiative said that "there is a need for increased momentum. Unsafe factories must be urgently identified and repaired, so that people can enjoy safe working conditions," and highlighted that more action was needed including higher trade union membership to enable workers to exercise their fundamental rights in Bangladesh.
Now we know the company should pay more into that compensation fund and there should be absolutely no debate on workers, anywhere in the world, being able to live off their wage and in a safe environment.
But we as a consumer have to do our fair share too.
If we want to do our part we need to be prepared to pay a higher price for our goods because, after all, we are only going to feed the beast of cheap fashion if we demand more for less all the time.